INSTITUTE OF LEGAL EDUCATION is organizing the 1st National Conference on the Constitutional Law, 2022.
ABOUT
Institute of Legal Education is a Legal Institute to Promote the Legal Education managed by I.L.E. Educational Trust (Former Institution known as "Indian Journal of Legal Review"). ILE has been established with the vision of excellence in legal education and research. Our ultimate visions are establishing the platforms for quality legal education and promoting legal gens even to the perspicacious society. Institute of Legal education Run with the Moto Vision of Grasp – Educate – Evolve. Institute of Legal Education managing the six excellent journals and will start online free certified courses from January 1st, 2023.
ELIGIBILITY
Everyone is welcome to participate in the conference and express their thoughts and ideas. The conference is open to Law Students, Advocates, Professionals, Jurists, Members of the Academia, as well as Non-Law Students.
THEME
The Conference themes are focused on the Following:
● Evaluation of the Constitution in India Since 1946
● The Constitution – Freedoms and Rights
SUB-THEME
Sub-themes of the Conference: Topics of interest for submission include, but are not limited to:
Evaluation of the Constitution in India Since 1946
● The Constitutional Debaters Futurist Ideologies and Current Scenario
● The Constitution and it's supremacy over the 75 Years
● The Preamble – Diamond of the Constitution
● The Constitutional Review
● Judicial Review and its enforcement
● 105 Amendments – Its Importance and Effects
● Unsolved Historical and Political Issues like Article 44, Reservation, etc.
● The Constitutional Current Trends by the Judiciary
● Provisions for individual development and fair LGP.
The Constitution – Freedoms and Rights
● Evaluation of Freedom of Speech and Expression in the Digital Era
● Privacy Freedom and State Control
● Freedom of Press and Mob Mentality
● Right to Religion – Post-Independence India and Independence India
● Current Status of Right to Reject (NOTA)
● Gender Rights and Constitutional Developments
● Constitutional and judicial Protection on Languages in India
SUBMISSION GUIDELINES
The Conference will be held by Virtual on Google Meet.
All communication through the mail be addressed to info@iledu.in
Research Papers and Articles must be accompanied by an abstract not exceeding 300 words.
Multiple authors and authorships are allowed. No single author can submit more than one paper in a single theme. An Author can submit paper no more than 3 papers in various sub-themes.
All manuscripts must compile with the Indian Journal of Legal Review Journal's (IJLR) Submission Guidelines (https://ijlr.iledu.in/submission-guidelines/) and Terms and Conditions (https://ijlr.iledu.in/terms-and-condition/).
The Paper Must be in the category of Article (2000 – 3000 words) or Research Article (3000 – 8000 Words)
The manuscript should contain the name of the paper, the name of the authors, and their institutional affiliation.
The main body of the manuscript should be in Times New Roman style, font size 12, with 1.5 line spacing.
Footnotes in Times New Roman Style, Size 10, with 1.0 line spacing.
All headings must have uniform formatting.
Texts and footnotes should conform to the Bluebook 20th Edition.
REGISTRATION FEE
There is no Registration Fee or Participation for this Conference to percent your research.
Only the Top 10 papers will be published in the Indian Journal of Legal Review with ISSN No. 2583-2344. The Publication fee is Rs. 300/- (Fixed. No other charges will not be charged at any stage of publication). The Publication fee must be paid after the Top Papers Confirmation.
PERKS
Suggestions and inputs from Experienced and Learned Panelists;
All the Paper Presenters shall be provided with an e-Certificate of Presentation
Selected papers shall be published in an ISBN Book (Publisher: Institute of Legal Education Publication House) with no Article Processing Charges and a Soft Copy of the Book shall be made available for free;
All participants will be provided with a participation certificate.
LINKS
https://forms.gle/o2CuoMEBRJhnP4tU7
CONTACT DETAILS
Prasanna S, Program Director and Coordinator, +91 94896 71437 (or)
info@iledu.in
Disclaimer: All information posted by us on Lexpeeps is true to our knowledge. But still, it is suggested that you check and confirm things on your level.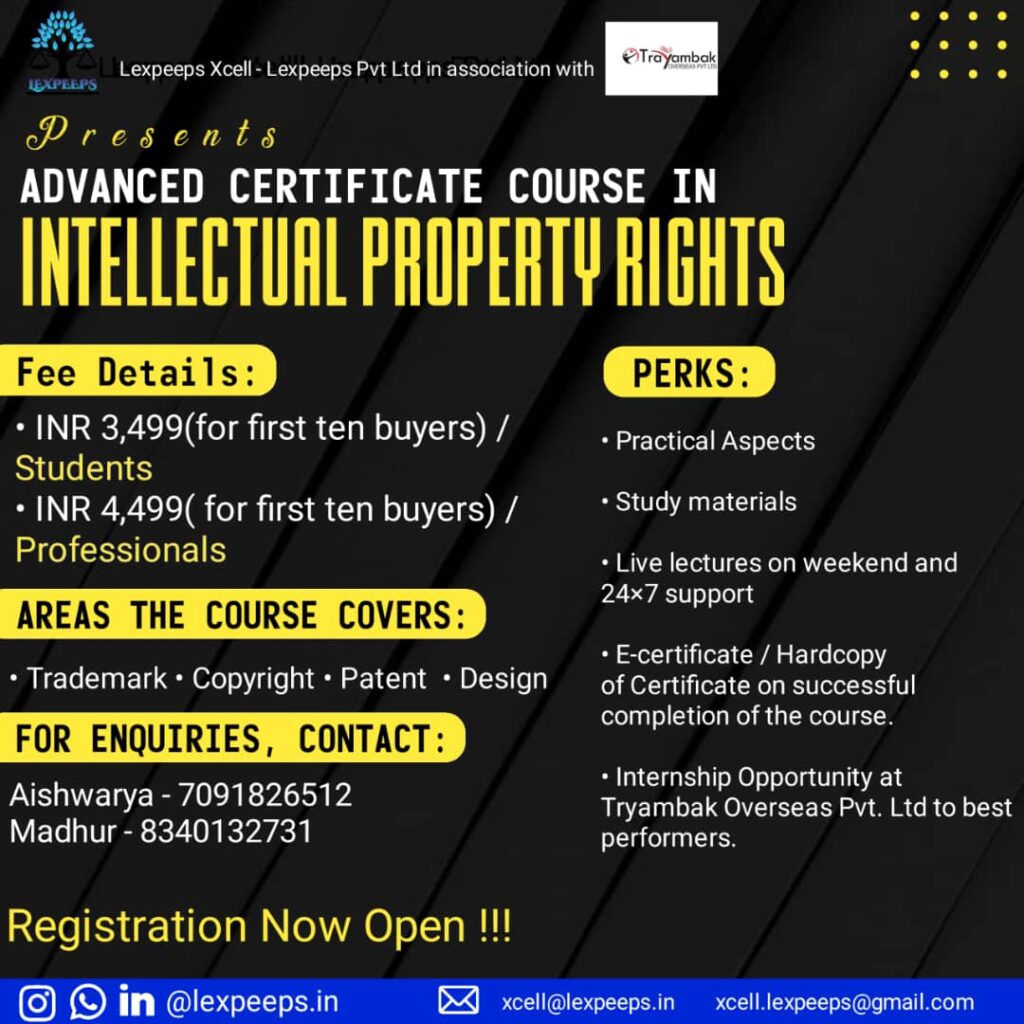 WhatsApp Group:
https://chat.whatsapp.com/G4bxdgRGHY8GRzOPSHrVwL
Telegram:
LinkedIn:
https://www.linkedin.com/company/lexpeeps-in-lexpeeps-pvt-ltd