About HNLU
Established in 2003, Hidayatullah National Law University has completed the journey of more than one and half a decade. In such a short span of time, HNLU has carved out a niche in the realm of legal education across India and the legacy is soaring towards newer heights day by day.
Named after the great legal luminary Justice Mohammed Hidayatullah, the University was established by the Government of Chhattisgarh under the Hidayatullah National University of Law, Chhattisgarh, Act (Act No.10 of 2003).
About The IP Law Post
A group of HNLU students who are into intellectual property. They hope to facilitate discussion on recent domestic and international events through this blog. IP has impacted many aspects of our lives, including business, innovation, sports, fashion, media & entertainment, and pharmaceuticals, as a result of the tremendous growth in technology, art, and industry. The IP Law Post is an attempt to create a welcoming and open environment that brings students, researchers, academicians, and professionals together.
ELigibility
Submissions from both law students and practitioners are welcome in order to foster a greater dialogue in the field of Intellectual Property Law.
Submission Guidelines
Intellectual property (IP) law or issues directly or indirectly related to IP must be the focus of submissions. IP Law post accepts both analytical papers on recent developments and pieces that explore new perspectives on long-standing IP law debates.
Submissions must be the author's original work (s). Plagiarism will be checked on all submissions. A maximum of two authors can collaborate on a paper.
Submissions on issues that have been previously covered in the blog will not be accepted, unless they bring forth fresh perspectives, arguments or opinions contrary to previously published content.
We accept submissions on a rolling basis. When it comes to deciding whether or not to accept a submission, the Editorial Board has complete discretion.
Submissions should be between 800-1500 words in length (exclusive of references). Longer write-ups may be split into multi-part posts, in consultation with the editors (all parts of the write-up will have to be submitted together).
Authors should stick to English language and wherever statements have been made in other languages, adequate translation should be provided.
References must be in the form of hyperlinks to relevant legal sources and background information, including any judgments, legislations, treaties or other legal texts which are mentioned. Hyperlinks must link only to legal or respected news sources. 
Endnotes will be approved if a reference cannot be accepted by hyperlinks, and they must be formatted according to OSCOLA 4th edition guidelines.
Where to submit?
Email your submission to us at iplawpost@gmail.com, with 'Submission for IPLP' in the subject line
The draft post must be attached in MS word (.doc/.docx) format only.
The body of the email must include your name and designation.
Once they receive your submission, your draft will undergo preliminary screening followed by an in-depth review by our editors. We shall endeavor to get back to you within a week.
For any queries mail at:  iplawpost@gmail.com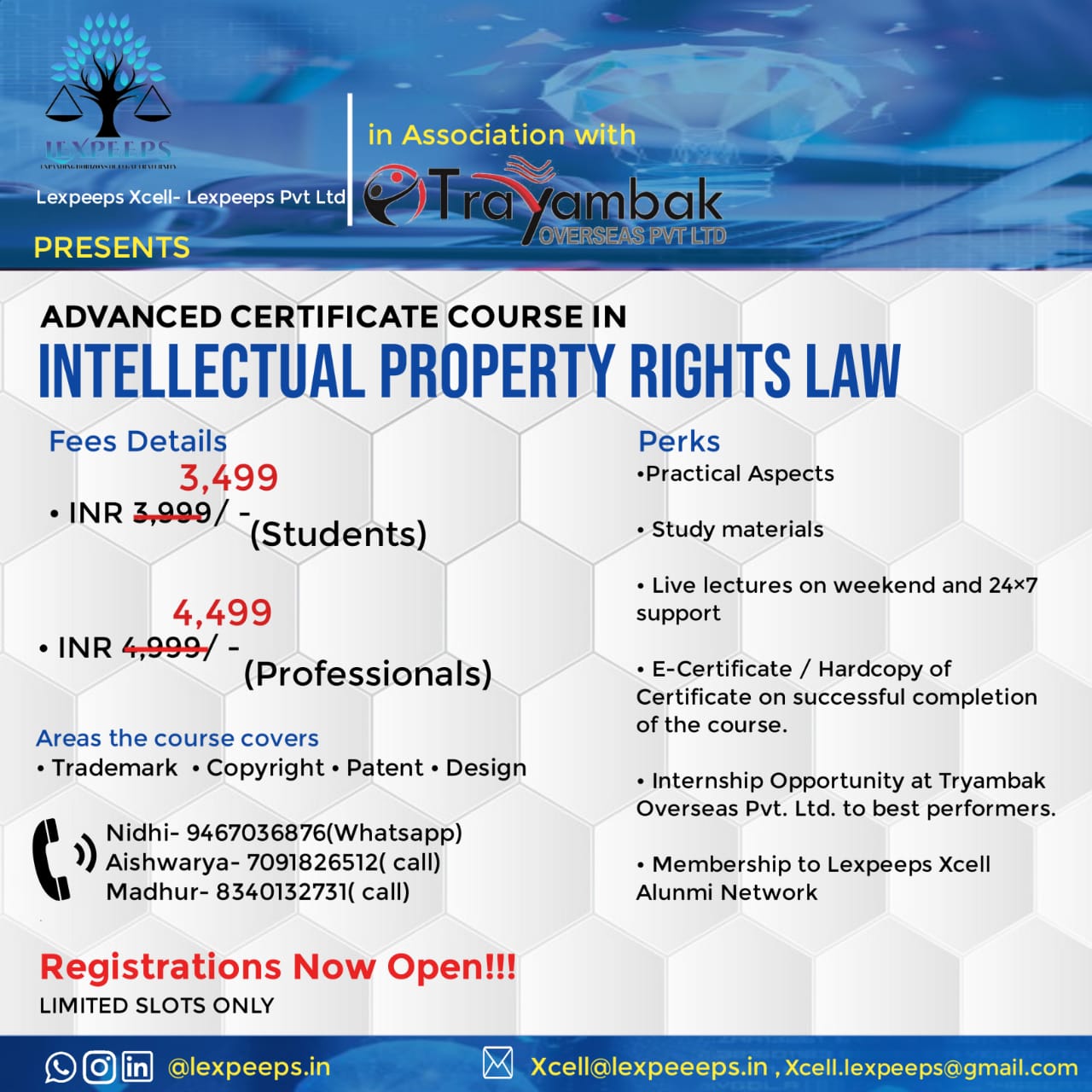 WhatsApp Group:
https://chat.whatsapp.com/GRdQLsHRwmB7QVRmS3WK
Telegram:
LinkedIn:
https://www.linkedin.com/company/lexpeeps-in-lexpeeps-pvt-ltd