About the CCL Blog
The Centre for Corporate Law is an initiative of National Law University Odisha, Cuttack that strives to promote interdisciplinary research in corporate law, and related fields like insolvency laws, securities law, etc. The Centre for Corporate Law among other endeavours runs the 'CCL Blog'.
The CCL Blog is a two-tier peer-reviewed and open-access blog that aims to bolster research within academia and the legal fraternity on contemporary issues pertaining to corporate law and its allied areas. At the same time, the blog seeks to publish content that keeps its readers abreast with updated information and analysis.
Editorial Board
The Blog's Editorial Board includes distinguished members from the industry which include:
Ms. Anajana Potti (Partner, Banking & Finance, J. Sagar Associates)
Mr. Anish Jaipuriar (Partner, Tax Laws, Kaitan & Co.)
Mr. Anshuman Sakle (Partner, Competition/Antitrust Law, Cyril Amarchand Mangaldas)
Mr. Ketan D. Parikh (Senior Counsel, Arbitration, High Court of Bombay)
Ms. Neeti Shikha (Head, Centre for Insolvency & Bankruptcy, Indian Institute of Corporate Affairs, Manesar)
Ms. Rashmi Deshpande (Partner, Tax Laws, Khaitan & Co.)
Mr. Steven Levitsky (Merger Clearance and Antitrust Counseling Manhattan, New York, United States)
Call for Blogs
CCL is pleased to invite well-researched blogs on a rolling basis. Submissions can be in the form of articles, opinions, case comments and short notes on topics revolving around 'Corporate and Commercial Laws'.
Topics
Submissions can be made within the ambit of 'Corporate or Commercial Laws'. For the convenience of the authors, they include inter alia:
Banking and Finance Laws
Commercial Arbitration
Company Law
Competition/Antitrust Laws
Insolvency and Bankruptcy
Mergers and Acquisitions
Securities and Capital Markets
Tax Laws
Eligibility
The CCL Blog invites blogs from students, practitioners, researchers, academicians, policymakers and other stakeholders in the legal field.
Submission Guidelines
Submissions should be the original work of the contributor and should not have been published or sent for publication elsewhere.
Co-authorship is permitted up to 2 authors.
Citations may be included either by adding footnotes (OSCOLA) or hyperlinking the reliable internet source in the main text itself.
Further, if the author relies on a specific part of a document to support an argument, pinpoint citations must be included.
Authors are advised to keep their articles concise and precise to enhance the effectiveness of their posts. The word limit should ideally range from 1200 – 1500 words (excluding footnotes).
Submissions should not contain advertising or marketing material. Posts summarising (and possibly linking to) alert memos and similar current awareness pieces prepared by law firms and other service providers will not be considered for publication.
Submissions should not contain any offensive, abusive, derogatory or potentially defamatory content.
Charges
There shall be no processing or publication fee.
Contact Details
Mail to: ccl@nluo.ac.in
Disclaimer: All information posted by us on LexPeeps is true to our knowledge. But still it is suggested that you check and confirm things on your level.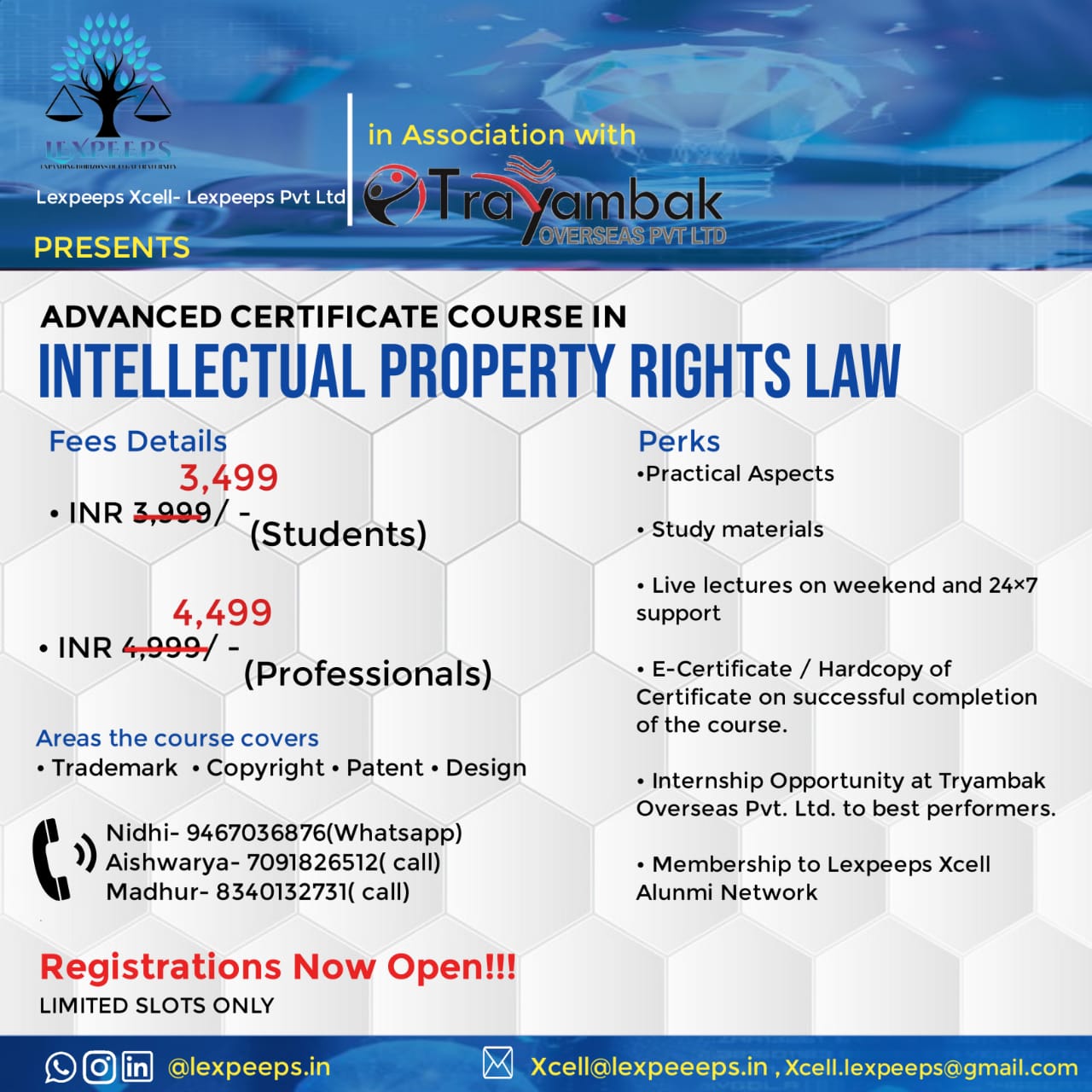 WhatsApp Group:
https://chat.whatsapp.com/GRdQLsHRwmB7QVRmS3WK
Telegram:
LinkedIn:
https://www.linkedin.com/company/lexpeeps-in-lexpeeps-pvt-ltd