NLUO's Centre for Corporate Law (CCL) is inviting well-researched submissions for its blog by way of a Call for Blogs, on a rolling basis.
ABOUT
The CCL Blog is a two-tier peer-reviewed blog affiliated with the Centre for Corporate Law, National Law University Odisha. The blog aims to further the goal of increasing the quality of knowledge on nuanced areas of corporate law and increase engagement and discussions on the present-day issues of contention.
THEME
Submissions can be made within the ambit of 'Corporate or Commercial Laws'. For the convenience of the authors, they include inter alia:
Banking and Finance Laws
Commercial Arbitration
Company Law
Competition/Antitrust Laws
Insolvency and Bankruptcy
Mergers and Acquisitions
Securities and Capital Markets
Tax Laws
ELIGIBILITY
The CCL Blog invites blogs from students, practitioners, researchers, academicians, policymakers, and other stakeholders in the legal field.
SUBMISSION GUIDELINES
Submissions should be the original work of the contributor and should not have been published or sent for publication elsewhere.
Co-authorship is permitted for up to 2 authors.
Citations may be included either by adding footnotes (OSCOLA) or hyperlinking the reliable internet source in the main text itself.
Authors are advised to keep their articles concise and precise to enhance the effectiveness of their posts. The word limit should ideally range from 1200 – 1500 words (excluding footnotes).
The maximum permissible plagiarism is 20%.
All submissions for the CCL Blog must be made via the Google Form linked at the end of the post. Any submission made via other platforms would be rejected.
For detailed submission guidelines click here.
CONTACT DETAILS
https://docs.google.com/forms/d/e/1FAIpQLSeucswuuErVIYaJEnQ16MUAtAZ7dUJP5SBg3NpuMIvohPx9Tw/viewform
Disclaimer: All information posted by us on Lexpeeps is true to our knowledge. But still, it is suggested that you check and confirm things on your level.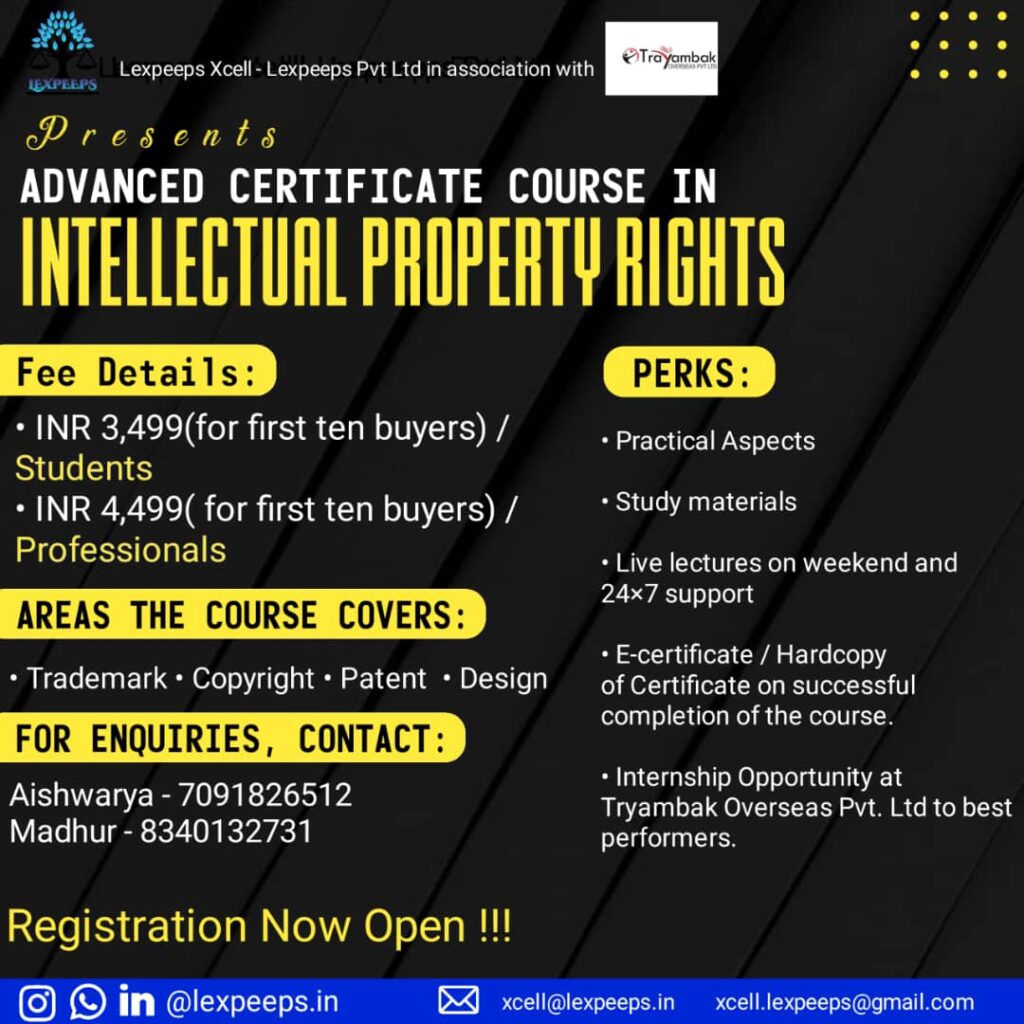 WhatsApp Group:
https://chat.whatsapp.com/G4bxdgRGHY8GRzOPSHrVwL
Telegram:
LinkedIn:
https://www.linkedin.com/company/lexpeeps-in-lexpeeps-pvt-ltd