Gujarat National Law University is organizing an advanced certificate programme in Capital Markets and Securities Laws under the aegis of the GNLU Centre for Business and Public Policy.
ABOUT
Established in 2003 with an aim to become a Research-based Teaching university, Gujarat National Law University (GNLU), has always taken proactive initiatives and outlook to provide valuable and mutually beneficial services to the institution of governance, judiciary, economy, and civil society, especially weaker sections of the society.
GNLU has created a unique learning environment, emphasizing research and training, coupled with a solid grounding in theory, with a vision to address the user's requirement, whether academic or not.
COURSE
Capital markets are the financial pulse of the economy. The maturity of an economy is gauged by the robustness of its capital markets. Having robust and well-regulated securities markets facilitates companies to raise capital from the public and at the same time allows the public to be a part of the nation's corporate growth story.
This course shall be aimed at providing conceptual clarity and in-depth understanding to the students about capital markets, various regulations and laws applicable to it, market mechanics, taxation of securities, and Alternate Investment Funds, among others.
The course will constitute quintessential components of the transactional side of Securities Laws and market mechanics which is majorly missing from most of the law school curriculums. It will be of immense value to students who are aiming to pursue a career in corporate laws, securities laws, or other allied areas.
The course will be a first-of-its-kind offering in the country. It is aimed at bridging the gap that is created by the existing courses in this domain through its comprehensively designed modules.
SCHEHE
Total number of teaching hours (sessions) – 70 hours
The course will be conducted in both online and offline modes. The first part of the course shall be online while the later part would be offline so as to facilitate better interaction with the faculties.
The course shall commence its online leg on December 3, 2022, and will have sessions preferably on weekends. A total of 10 sessions shall be conducted online (tentative) with approximately 34 teaching hours.
The offline leg of the course shall be from January 28, 2023, to February 02, 2023. There will be a total of 36 teaching hours in the offline leg followed by an evaluation.
For the offline leg of the course, participants who opt for accommodation will be provided with the same by the university on an additional payment basis.
ELIGIBILITY
Students enrolled in UG or PG courses in any recognized university, Scholars, Chartered Accounts, Company Secretaries, Cost Accountants, Advocates, Academicians, Professionals or Industry Practitioners.
Total number of seats: 60
Participation shall be strictly on a first come first serve basis.
CONTENTS
Primary & Secondary markets
Key provisions of the SEBI Act, 1992; Companies Act, 2013; SCRA, 1956; & Depositories Act, 1996.
Equity shares: Issuance and other regulatory requirements- SEBI ICDR Regulations, 2018
IPO Analysis: Valuation, Pricing, and Process
Post Issue Compliance: SEBI LODR Regulations, 2015
Secondary market infrastructure and key SEBI Regulations (Insider Trading, FUTP, Delisting etc.)
SEBI (substantial Acquisition of shares and Takeovers) Regulations, 2011
GIFT City IFSC & Key provisions of IFSCA Act and regulations issued there under.
SEBI (AIF) Regulations, 2012
Taxation of Securities
Introduction to key trading concepts and stock exchange trading mechanisms
Technical Analysis of charts, Price Action, and key chart patterns
Fundamental Analysis of Companies
Introduction to Derivatives, Futures, and Options
Regulations in Financial Derivatives Markets
Key concepts in Futures and Options- ITM, ATM, OTM, strike price, option chain data, Open Interest etc.
Black Scholes Model for option pricing.
For a detailed course outline and schedule please click on this link.
FACULTY
Prof. (Dr.) S. Shanthakumar, Director – Gujarat National Law University
Prof. (Dr.) Mayank Joshipura, Professor of Finance, NMIMS Mumbai
Dr. Narayan Baser, Associate Professor – PDEU
Mr. Dipesh Shah, Executive Director (Development) – IFSCA
Ms. Devaki Mankad, Partner – Cyril Amarchand Mangaldas
Mr. Oishik Bagchi, Partner – Khaitan & Co.
Mr. Ankush Goyal, Partner – Trilegal
Mr. Ayan Mukherjee, Assistant General Manager – SEBI
Dr. Mobin Shaikh, Assistant Professor of Management – GNLU
Dr. Divya Tyagi, Assistant Professor of Law – GNLU
Mr. Satya Ranjan Mishra, Assistant Professor of Commerce – GNLU
Course Fee
Rs. 10,000 plus applicable taxes.*
* Registration fees are inclusive of breakfast, lunch, and high tea on all days of the offline session.
DETAILS
Interested participants are required to register themselves through the Google form provided at the end of this post.
In case of any problems with the google form, you may mail it to dsl.gcbpp@gnlu.ac.in.
Please note that the participants are required to make a payment of Rs 10,000 (+18% GST) at the time of registration itself and attach the screenshot of the payment in the google form.
IMPORTANT DATES
Last date for registration: November 21, 2022
Commencement of the online leg of the course: December 3, 2022
Commencement of the offline leg of the course: January 28, 2023
End of the course: February 2, 2023
For more information about the course, please refer to the brochure and course schedule.
CONTACT DETAILS
In case of any queries, mail us at dsl.gcbpp@gnlu.ac.in. You may also contact:
Devarsh Shah (Student Convenor): +91 63595 65417
Devanshu Anada (Student Convenor): +91 70168 32566
Harshit Singh (Course Coordinator): +91 72848 03289
https://forms.gle/RkVE15jzDresHTyL8
Disclaimer: All information posted by us on Lexpeeps is true to our knowledge. But still, it is suggested that you check and confirm things on your level.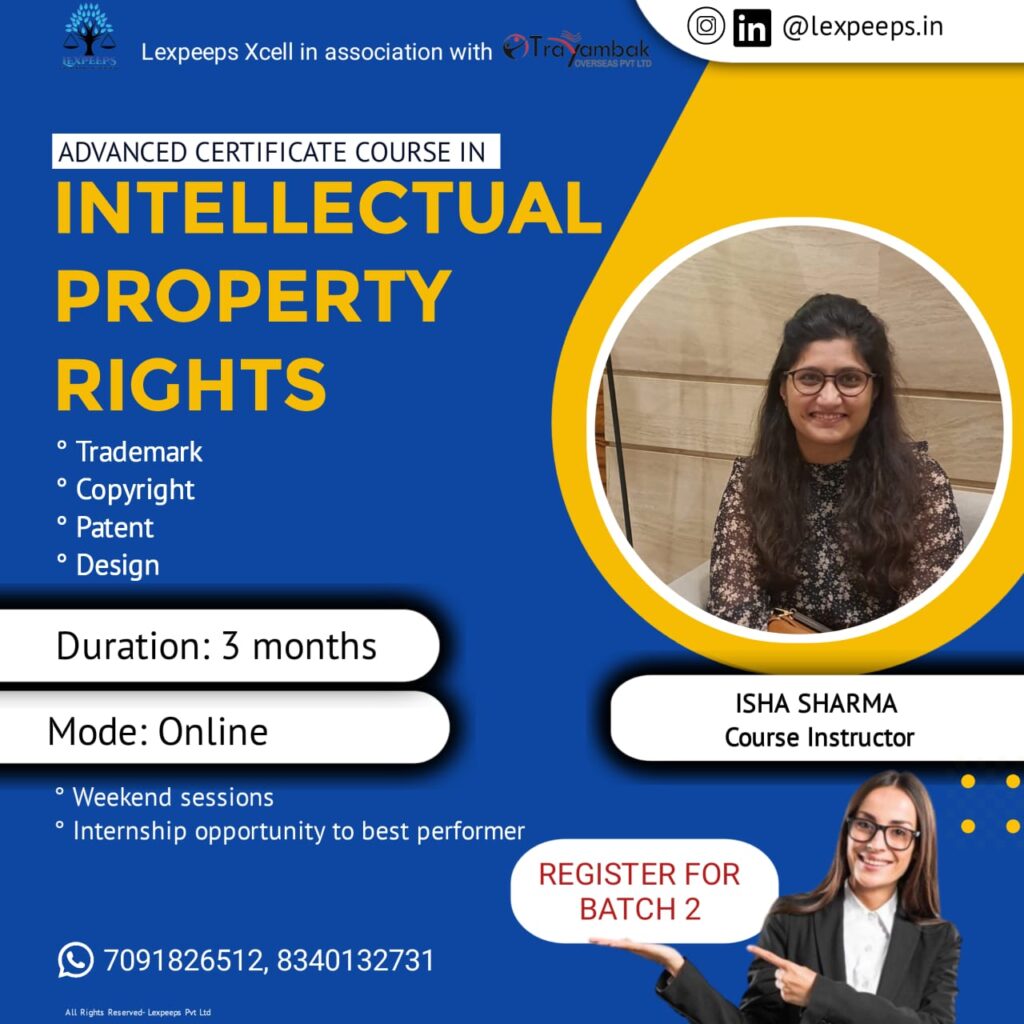 WhatsApp Group:
https://chat.whatsapp.com/G4bxdgRGHY8GRzOPSHrVwL
Telegram:
LinkedIn:
https://www.linkedin.com/company/lexpeeps-in-lexpeeps-pvt-ltd