Amity Law School, Noida is organising the second edition of Amity National Trial Advocacy tournament in Amity University Noida campus from October 12 to 14, 2022 and accepting registrations for the same.
ABOUT
This Competition is conceived with the aim of promoting & developing skills about the procedure followed by Trial Courts and testing the knowledge of law students across the nation. It tests the law students both on the aspects of knowledge of law and facts.
This is in fact an effort of providing such a platform to law students so they can learn the basics of trial Court which in turn opens a wider gate of one's overall learning experience. Most law school trial advocacy courses focus on tactical skills, though some integrate basic methods of strategic planning.
Some academics have expressed disfavour with advanced strategic techniques because of the imbalance they create, especially against attorneys who are unaware of them.
Proponents of advanced strategic techniques argue that these methods are the only effective means to counter the already-existing imbalances in the system, as between indigent defendants and the state, and between working-class plaintiffs and well-resourced, wealthy corporations.
As one of the impending graduate schools in India, we are continually taking measures to give comprehensive and significant lawful schooling to brilliant youthful abilities from across the country.
In the course of such undertakings, Amity Noida have seen that solid backing abilities, and the capacity to think sensibly and judiciously, joined with discernment for drafting, are a few key qualities that are essential for a legal advisor in the current situation.
Turning into a decent supporter is moderate maturing leafy foods sharpened through mooting. Amity Noida is pleased to announce that it will have the second edition of Amity National Trial Advocacy tournament in Amity University Noida campus from October 12 to 14, 22.
ELIGIBILITY
Students pursuing a 3-Year LL.B. Degree Course or 5-Year Integrated LL.B. Degree Course and LL.M. Degree Course from the colleges recognised by the Bar Council of India are eligible to participate in the competition.
REGSTRATION FEE
INR 3000/- + GST
PERKS
Prizes Worth Rs. 1 Lakh.
Participation certificates will be awarded to all the participants and merit certificates and trophies will be awarded to their respective winners.
The exact bifurcation of the prize money to be disclosed in the Orientation dated October 11, 2022.
IMPORTANT DATES
Registrations Closing Date: October 2, 2022
Submission of Memorial: October 7, 2022
Clarification Dates: October 5, 2022 Event Dates: October 12 to 14, 2022
LINKS
CONTACT DETAILS
+91 99906 23000
https://forms.gle/kXaNqjLAkZL6T9Ye6
Disclaimer: All information posted by us on Lexpeeps is true to our knowledge. But still, it is suggested that you check and confirm things on your level.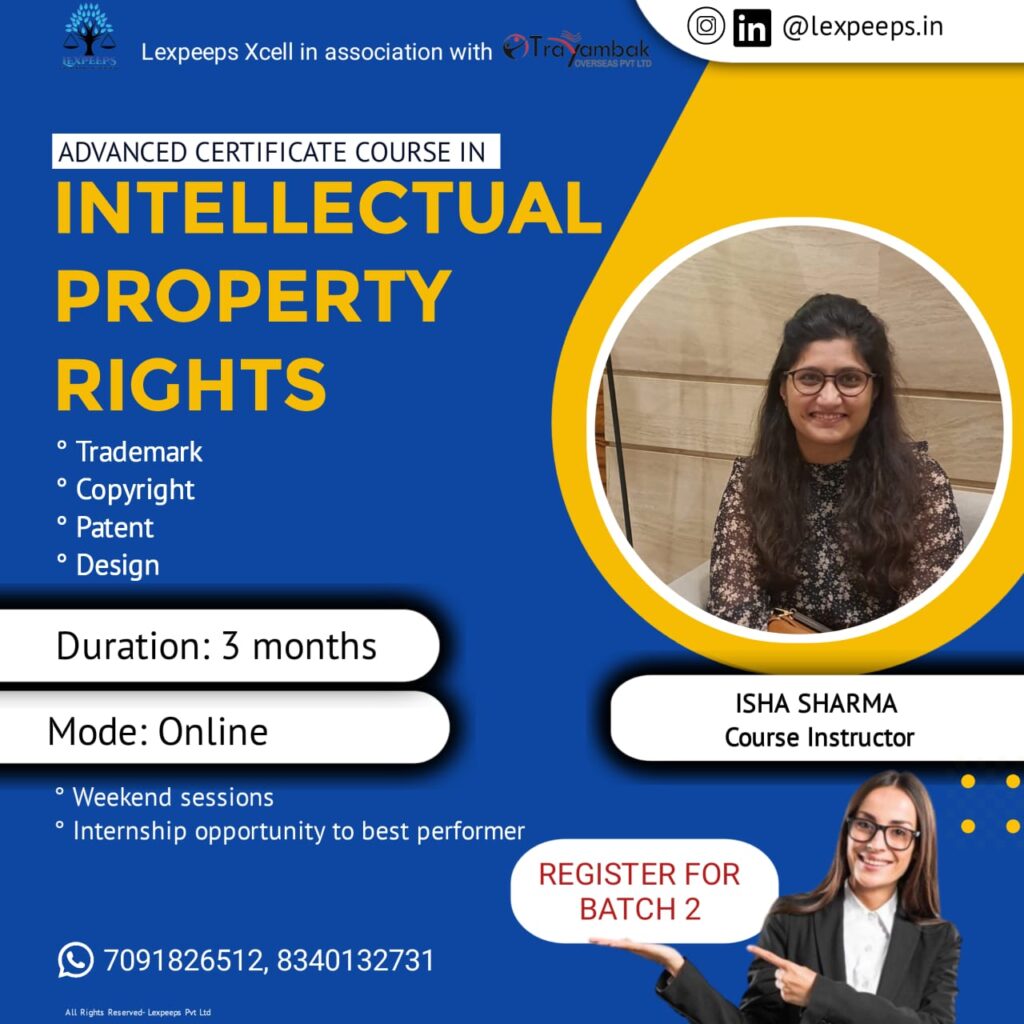 WhatsApp Group:
https://chat.whatsapp.com/G4bxdgRGHY8GRzOPSHrVwL
Telegram:
LinkedIn:
https://www.linkedin.com/company/lexpeeps-in-lexpeeps-pvt-ltd