MNLU Mumbai and Department for Promotion of Industries and Internal Trade. Ministry of Commerce and Industry, GOI, are organizing an introductory workshop on Orphan Drugs Regime in India.
ABOUT
Department for Promotion of Industries and Internal Trade (DPIIT), Ministry of Commerce and Industry, Government of India, launched a Scheme for Pedagogy & Research in IPRs for Holistic Education & Academia (SPRIHA) in the year 2016 under which IPR Chairs have been set up in the Maharashtra National Law University (MNLU) Mumbai.
RESEARCH
Public health and hospitals is primarily state subject. Stakeholder consultation with the State Governments requires an elaborate discussion. A fundamental challenge in research and development for the majority of rare diseases is that there is relatively little known about the pathophysiology or the natural history of
these diseases.
The challenge becomes even greater as rare diseases are chronic in nature, where long-term follow-up is particularly essential. As a result, rare diseases lack published data on long-term treatment outcomes and is often incompletely characterized. As India is still developing, there is a setback in regard to regulation and development in orphan disease research.
Recently, mobility is seen in terms of rare disease research in India. Different initiatives are in process which includes initiative from the regulatory side, initiatives from academic institutes, non- governmental organizations, and other related sectors. In the present scenario, there is a strong need for the assessment of the spectrum and burden of orphan diseases and awareness programs in mass regarding orphan diseases.
Strong policies and initiatives are needed from the government and academic and private institutions for orphan drug development. The revised National Policy for Rare Diseases (2021) makes mentions the need for the promotion of local development of drugs by pharmaceutical companies. The need legislative framework is evident which would strengthen the health infrastructure and provide relief to the numerous rare disease sufferers throughout the country.
India does not have a law on orphan drugs as yet but the draft rules released by the health ministry on a regulatory framework for clinical trials in India define orphan drugs as those intended to treat a condition that affects fewer than 200,000 people. Equally important is the fact that it is unclear whether orphan drugs can be subject to compulsory licenses.
Compulsory licenses are permitted under Article 31(5) of TRIPS and allow governments to circumvent patent rights on public health grounds by allowing generic manufacturers to produce and distribute the drug at a lower price, while fairly compensating the original rights-holder. The public health safety net, which is specifically designed to put the public's health above commercial profits in times of dire need, is also maybe not applicable when the public needs it most.
ELIGIBILITY
Experts from Healthcare, Medical Science, Pharmacy and Law & Policy; IP Professionals, Lawyers, and Academicians.
Research & Development, and other scientific & medico-legal domains, enforcement personnel, etc.
Medical, pharma, para-medical & law students.
DETAILS
Interested candidates must register for the workshop through the link provided at the end of this post.
For professionals, lawyers, researchers, academicians – Rs. 750/-
For medical, pharma, para-medical & law students – Rs. 500/-
November 1, 2022
https://forms.gle/mm4gNgVQF5miSX248
Disclaimer: All information posted by us on Lexpeeps is true to our knowledge. But still, it is suggested that you check and confirm things on your level.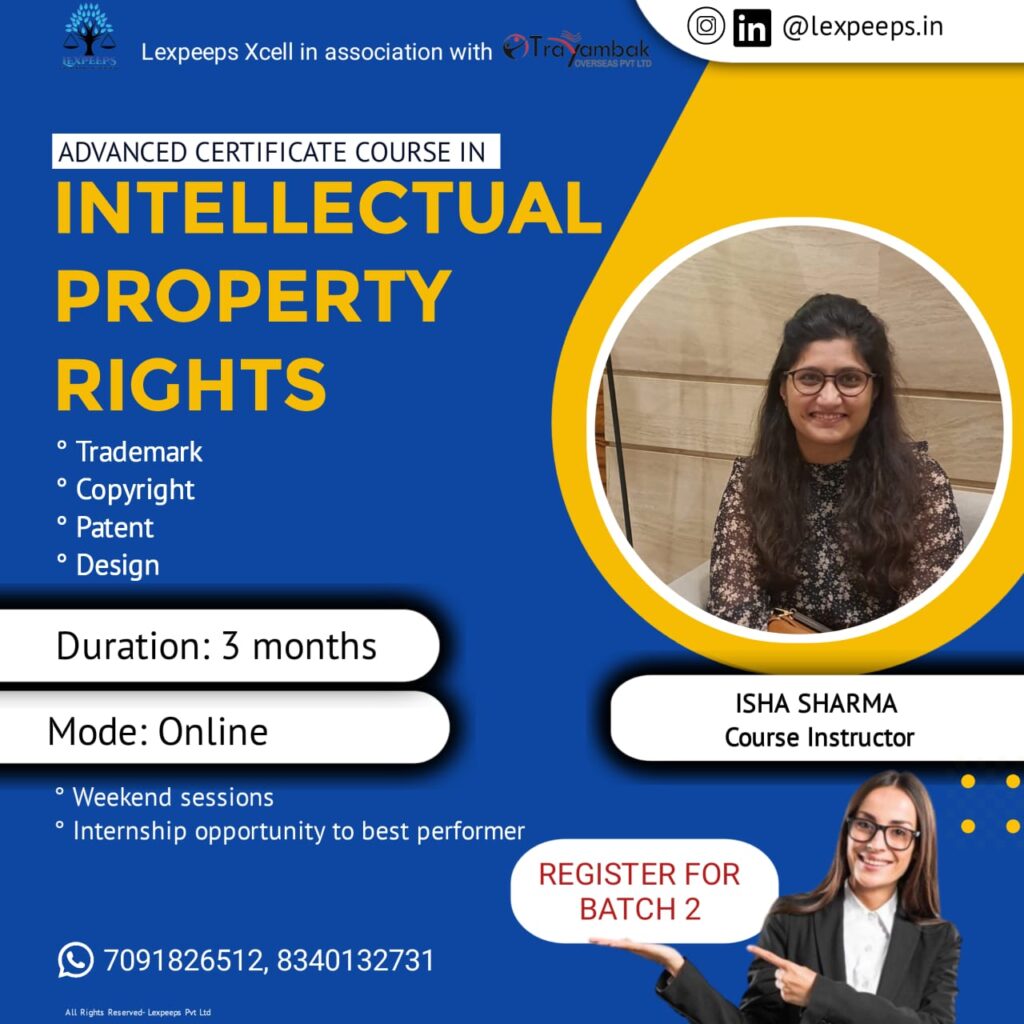 WhatsApp Group:
https://chat.whatsapp.com/G4bxdgRGHY8GRzOPSHrVwL
Telegram:
LinkedIn:
https://www.linkedin.com/company/lexpeeps-in-lexpeeps-pvt-ltd