The Centre for Gender Justice Studies, MNLU, Nagpur is organizing a two days national seminar on Gender Justice- Breaking Stereotypes, Discriminations and Prejudices on October 15-16, 2022.
ABOUT
Gender equality is not only a fundamental human right but a necessary foundation for a peaceful, prosperous and sustainable world. It is important to observe that sex is a biological manifestation of an individual, while gender is a social tag that is based on certain pre-defined norms. The Constitution of India enshrines principles of equality before the law and that all should be given equal opportunities, but fighting the odds of discrimination and prejudices is still a long way.
ELIGIBILITY
Papers for presentation in the National Seminar are invited from academicians, practitioners, researchers, scholars and students on the issues related to specified themes.
THEME
Gender Justice – Breaking Stereotypes, Discriminations and Prejudices
Rethinking sex and gender
Issues of identity and ideals of justice
Benevolent sexism and gender sensitization
Social impact of the depiction of gender and sexuality in popular culture
LGBTQ rights and sexual diversity
Gender and Legal Systems
Third Gender, Marital Rights and Legal Inclusion.
Women Emancipation and Indian Judiciary.
Sex and Gender under Penal Laws.
Stereotyping, Behavioural Norms and Trans-Inclusive Governance.
Gender and Technology
Gender and Access to Technology
Women in Media and Artificial Intelligence.
Gender Sensitive Issues and Media
SUBMISSION GUIDELINES
Abstract: The abstract should not exceed 300 – 350 words and must reach the organiser on or before 15th September 2022accompanied by a cover page stating the following:

Theme and Sub-theme
Title of the paper
Name of the Author(s)
E-mail address
Postal address and Contact Number

Only the selected abstracts will be permitted for presentation.
Full Paper Submission: The following guidelines should be followed:
The word limit of the paper shall be 3000-4000 words (exclusive of footnotes). The font style of the paper should be Times New Roman with font size being 12 for the main text and 10 for the footnotes.
The line spacing for the main text and footnotes should be 1.5and 1 respectively. (Endnotes are not permitted).
One 1" should be maintained on all four sides of the pages.
Citation Style: Bluebook, 20th edition.
The File Name should be in the format given. Example- Name of Author + Title of paper.
The abstract and full paper has to be submitted in .doc/.pdf format.
Plagiarism declaration statement in the e-mail (The Plagiarismlimit is 10%). All submissions must be the author's original and unpublished work.
The full paper must be emailed to cgjs@nlunagpur.ac.in with the subject "SUBMISSION OF FULL PAPER".
Note: Co-authorship is permitted to a maximum of two authors and at least one author must attend the Seminar to present the paper.
REGISTRATION DETAILS
Abstract selection would be intimated through email.
After the selection of the Abstract, the participants are required to pay the requisite fees for registration. and email the receipt of the payment to cgjs@nlunagpur.ac.in
Registration Fees

For Students & Research Scholars:
Single Authorship – Rs. 800
Co-Authorship – Rs.1,500
For Academicians & Professionals
Single Authorship – Rs.1,000
Co-Authorship – Rs. 1,800
AWARDS
One paper from each theme will be given the BEST PAPER Award Certificate. The Best paper will be selected from amongst the papers which are received well within the specified deadline for submission of full paper and have adhered to all the rules related to formatting and have paid the requisite seminar registration fee. Selected papers under each theme will be published in the proposed book carrying the ISBN number.
IMPORTANT DATES
Submission of Abstract – 15th September 2022
Confirmation of Abstract – 18th September 2022
Last date for Registration and Payment – 20th September 2022
Submission of Full Paper – 10th October 2022
National Seminar – 15th & 16th October 2022
https://docs.google.com/forms/d/e/1FAIpQLSejgVsC7p4e1nC39zo5a-3sq1gEwMe5EpOpwJyd_7w0zc4gEQ/viewform
Disclaimer: All information posted by us on Lexpeeps is true to our knowledge. But still, it is suggested that you check and confirm things on your level.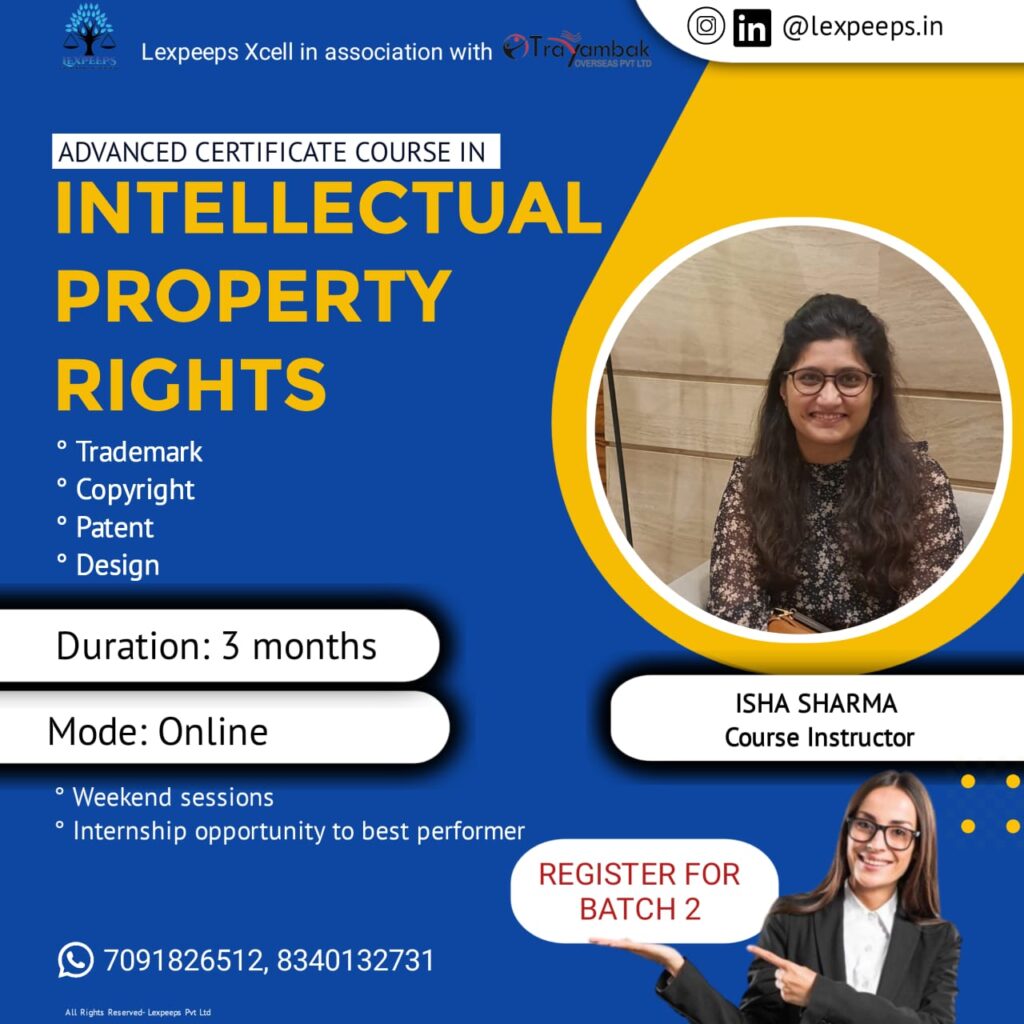 WhatsApp Group:
https://chat.whatsapp.com/G4bxdgRGHY8GRzOPSHrVwL
Telegram:
LinkedIn:
https://www.linkedin.com/company/lexpeeps-in-lexpeeps-pvt-ltd