About the High Court of Jharkhand
The Jharkhand High Court is one of the newest High Courts in India. It was established in 2000 under the Bihar Reorganisation Act, 2000, after the state of Jharkhand was carved out of the state of Bihar. The court has jurisdiction over Jharkhand state.
About the Opportunity
Applications are invited from the eligible candidates for engagement of Law Researchers/ Research Associates in The High Court of Jharkhand, Ranchi on a contractual basis at a monthly remuneration of Rs. 30,000/- only.
The contractual engagement shall be for a term of one year, which may be extended once for one year. The maximum period of engagement shall be two years.
The Law Researcher/Research Associate shall be initially placed as lawTrainees with the Hon'ble Judges, as per requirement, for a period of one year which may be extended once for one year and a maximum period of engagement shall be two years.
Roles and Responsibilities
Carry out the Research duties under direct control of the Hon'ble Judge with whom he/she is attached.
To read the case files and prepare the case summary, notes and chronological events of such a comprehensive nature that it may give a complete view of the matter to the Hon'ble Judge including the legal questions involved and the latest case laws having bearing on the cases either ways.
To search out case law, articles, papers and other relevant materials required in discharge of judicial and administrative work, assistance in preparation of judgments, corrections and proof reading.
To remain present in the Court during hearing of cases and to prepare notes of arguments along with research on citations.
To identify facts, issued and questions that may arise in the course of arguments or as may be relevant for judgment.
To maintain record of judgments passed by the Hon'ble Judge along with the point of law decided in that particular case and to maintain it in such a manner as to be very conveniently available to the Hon'ble Judge for any purpose whatsoever and retrievable as and when required.
To perform whatever is directed in the course of engagement of him/her with regard to procedural and substantive law.
To assist the Hon'ble Judge in preparation of any speech/academic paper and provide assistance in important conferences.
To be acquainted with court procedures viz., method of filing of various categories of cases, provisions of law, movement of cases before and after filing, etc
Maintain statistical reports including delivery of judgments.
Maintenance of books, research papers and materials.
Eligibility
Educational qualification:
Any fresh Law Graduate/ Post Graduate from a University/College recognised by the Bar Council of India shall be eligible to apply.
Students studying in the 5th year of a 5 year Law course or Final year of a 3 year Law course will also be eligible for engagement and their final selection would be subject to their passing of the final year examination of LL.B. prior to their engagement.
Candidates having familiarity with computer will get preference in matter of selection.
The candidature of a candidate who is practicing Lawyer must be recommended by a designated Senior Advocate or in case applicant is other than Lawyer, by the Head of the last Law School/College/University attended by him/her.
The candidates who have passed all his/her examinations in the first attempt with at least 60% aggregate marks will alone be eligible to apply.
The candidates pursuing Post Graduate degree in Law or any other Degrees or Programme requiring their compulsory attendance will not be eligible to apply for the engagement.
Age: A candidate shall not be less than 21 years and not more than 28 years of age, as on the date of advertisement.
Remuneration
Rs. 30,000 per month
Application procedure
Format of the application form can be viewed and downloaded from the official website of the High Court of Jharkhand, Ranchi.
Candidates must submit a scanned copy of the filled up application form in the prescribed format along with scanned copy of enclosures* in a single pdf file (not exceeding 10 MB) on the E-mail address of the Registrar General, High Court of Jharkhand, Ranchi i.e. rgjhc.jhr@gmail.com from December 17, 2021, to January 7, 2022, only.
Please Note:
The candidates should possess sound health, good moral character and should not be involved in or related to any criminal case or any type of offence/act involving moral turpitude.
The candidate must write his/her name, date of birth, father's name strictly as given in the Matriculation/10th Certificate otherwise, his/ her candidature will summarily be rejected/ cancelled at the time of scrutiny of application forms/Document verification at the time of Interview or at any stage/level it comes into the notice of the High Court of Jharkhand, Ranchi.
Application with illegible/blurred photograph and/ or signature will be rejected.
Request for change/correction in any particulars in the application form, after the closing date, will not be entertained under any circumstances.
Candidate is not required to send the printout of duly filled application form or any documents to the High Court of Jharkhand, Ranchi.
Candidate is suggested to keep a printout of the duly filled application with himself/herself for future requirement.
(*) Enclosures to be submitted with the application form:
Matriculation Certificate in proof of date of Birth.
Marksheet (of all the semesters/ years) of Law Graduation and Post Graduation (if applicable).
Provisional/Original degree Certificate of Law Graduation and Post Graduation (if applicable).
Recommendation by a designated Senior Advocate or in case applicant is other than Lawyer, by the Head of the last Law School/ College/ University attended by him/her.
Computer certificate, if any.
Selection Procedure
The Selection shall be based on merit and interview and the selection will be made by Hon'ble the Chief Justice or the Committee appointed by Hon'ble the Chief Justice.
Selection for engaging Law Researcher/Research Associate shall be made by notifying requirement and thereby inviting applications from willing candidates.
The pro-forma of advertisement shall be prescribed from time to time.
Such application shall be made in the form as is prescribed and downloaded from website accompanied with the copies of documents as enumerated in that form.
Simultaneously, Law Institutions by way of publication may also be intimated of notification about the requirement of Law Researcher/Research Associate along with Registrar of Universities to persuade students and forward applications of willing candidates along with their recommendations.
There shall be a select list and waiting list of Law Researchers/Research Associate. In case any Law Researchers/Research Associate is terminated, then the candidates from the waiting list shall be engaged.
Work Location
Ranchi, Jharkhand
Link for more details-
https://jharkhandhighcourt.nic.in/node/display_pdf/law_researchers_17122021
Disclaimer: All information posted by us on LexPeeps is true to our knowledge. But still, it is suggested that you check and confirm things on your level.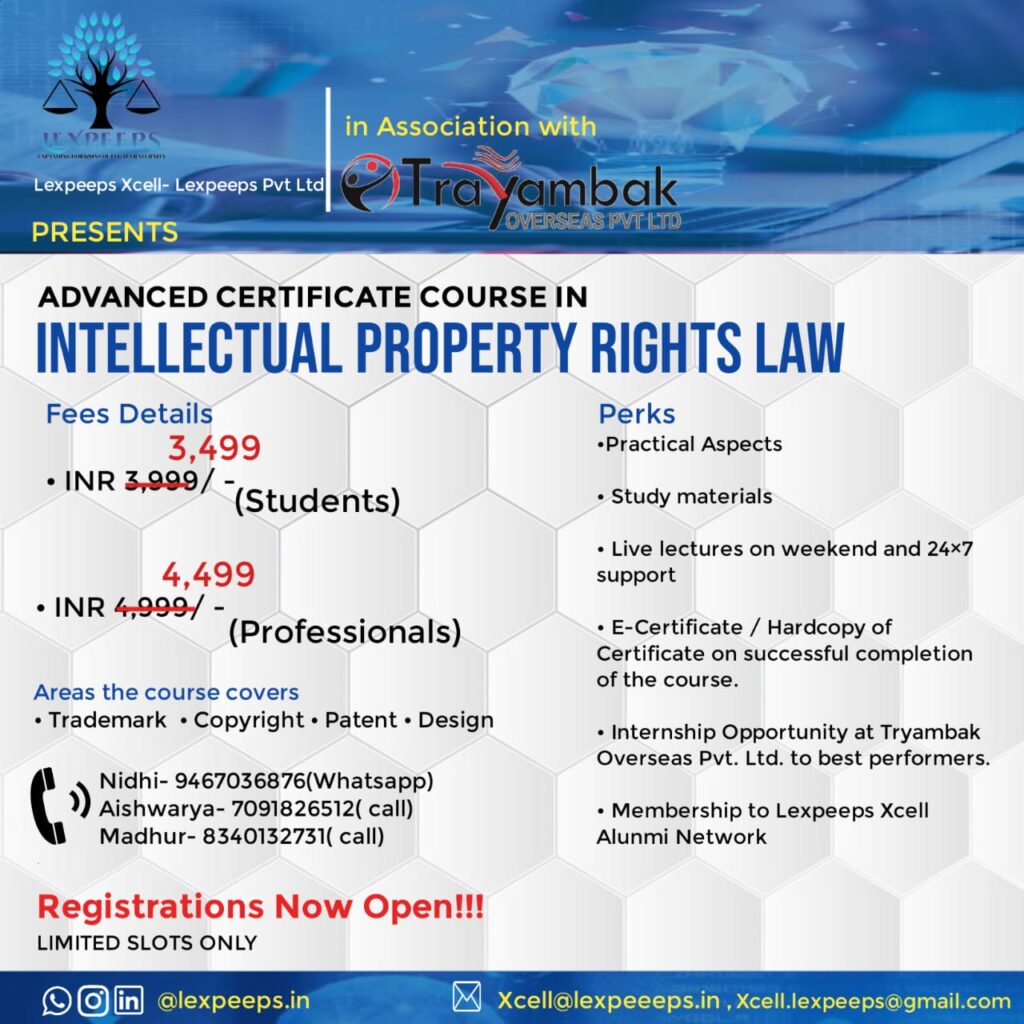 For regular updates we can catchup at-
WhatsApp Group:
https://chat.whatsapp.com/GRdQLsHRwmB7QVRmS3WK
Telegram:
LinkedIn:
https://www.linkedin.com/company/lexpeeps-in-lexpeeps-pvt-ltd