About the Narcotics Control Bureau
NCB is Indian federal law enforcement and intelligence agency under the Ministry of Home Affairs, Government of India. The agency is tasked with combating drug trafficking and the use of illegal substances under the provisions of Narcotic Drugs and Psychotropic Substances Act.
About the opportunity
Narcotics Control Bureau (NCB), Ministry of Home Affairs, intends to fill up 93 (ninety-three) existing vacancies in the grade of Junior Intelligence Officer on a deputation basis.
Number of Vacancies
82 (Eighty-two)
Job Details
Enforcement of Narcotic Drugs & Psychotropic Substances Act, 1985.
Collection & development of Intelligence, Investigation, search, seizure and arrest (including financial investigation);
Initiating trial in courts.
Initiating action under PITNDPS Act.
Attending trial in courts.
Identification and destruction of illicit opium and cannabis cultivation;
Demand Reduction activities Training of officers/personnel of other drug law enforcement agencies
Coordination with other drug law enforcement agencies Any other duties as assigned/allocated by Superior Officers.
Eligibility
Officers of the Central/State Governments/Union Territories:
(A) (1) Holding analogous posts on regular basis in the parent cadre or department;
or
(2) With (six) years' regular service in the Level-5 (Rs.29,200-92,300) of the Pay Matrix or equivalent in the parent cadre or department: and
(B) Possessing the following educational qualification and experience:
Educational Qualification: Must possess a Bachelor's degree from a recognized board
Experience: Two years' experience in enforcement of regulatory laws and collection of intelligence information thereto.
Desirable: One year's experience in investigation of criminal offences.
Age Limit: Not more than 56 years of age on the closing date of receipt of application.
Salary
The post of Junior Intelligence Officer carries the pay scale in PB-2 (Rs.9300 34800) plus Grade Pay of Rs 4200/- (pre-revised) [Level-6 as per 7 CPC Pay Matrix]
Procedure to apply
Application (Curriculum Vitae) in the enclosed format of willing and eligible officers whose services can be spared without delay, in the event of their selection may be forwarded through proper channel along with
Copies of APARS for the last 5 years duly attested (with stamp) on each page by an officer not below the rank of Under Secretary to the Government of India or equivalent.
Integrity Certificate
Vigilance clearance certificate as per proforma enclosed &
Major/minor penalty statement for the last 10 years and Cadre clearance certificate incorporating that in the event of his/her selection, he/she will be relieved to join NCB on a deputation basis so as to reach the Deputy Director(Admn) Narcotics Control Bureau West Block No 1, Wing No.5, R.K.Puram New Delhi-110065, within 60 days from the date of issue of this circular i.e October 29, 2021.
Note: The application proforma has been annexed to the official notification, as Annexure-I. Click on the link given at the end of this post for the official notification.
Important Details
Period of Deputation: Ordinarily not exceeding three years including the period of deputation in another ex-cadre post immediately preceding the appointment, extendable up to 07 years subject to suitability and performance, as per DoP&T & MHA guidelines issued from time to time. No further extension will be granted in any case.
Work Location
The selected candidates are liable to be posted anywhere in India in any of the Zones/Sub-Zones/Regional Offices/Headquarters of Narcotics Control Bureau. Any conditional application regarding the place of posting or any other issue shall not be entertained.
Link for more details-
http://narcoticsindia.nic.in/vacancies/jiov.pdf
Disclaimer: All information posted by us on LexPeeps is true to our knowledge. But still, it is suggested that you check and confirm things on your level.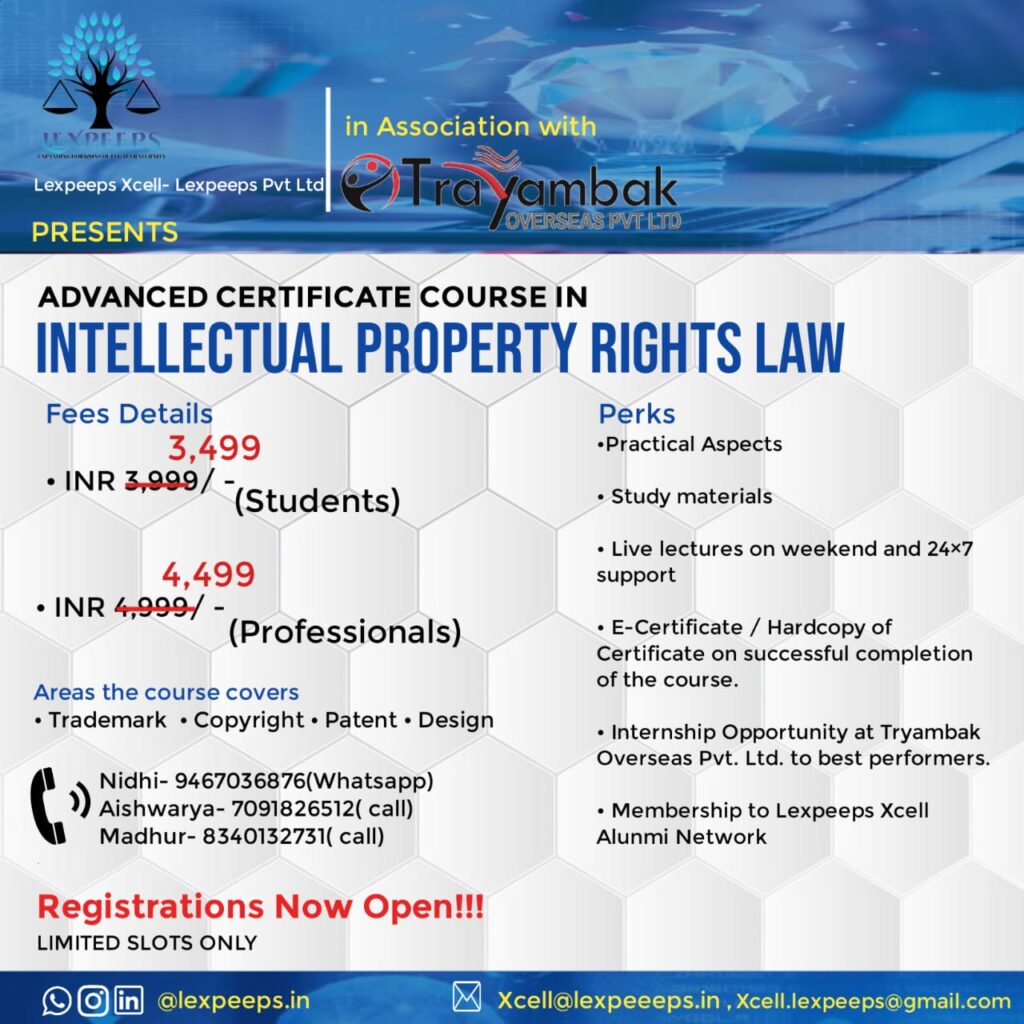 For regular updates we can catchup at-
WhatsApp Group:
https://chat.whatsapp.com/GRdQLsHRwmB7QVRmS3WK
Telegram:
LinkedIn:
https://www.linkedin.com/company/lexpeeps-in-lexpeeps-pvt-ltd