About the Organization
The Court's independent Office of Public Counsel for the Defence (OPCD) is devoted exclusively to the Defense's activities. The OPCD, which was established in accordance with Regulation 77 of the Regulations of the Court, works to advance, defend, and represent the Defence while bringing defense-related matters to the public's attention. The OPCD monitors all cases on a daily basis in order to build a collective defence memory and resource centre. This allows it to draw from the experiences of the many ICC defence teams and offer them legal resources, research, and guidance when needed. Additionally, the Counsel of the OPCD is still available if the Chambers need him or her to represent a suspect or defendant in court or offer advice on a particular legal issue. Members of the Office function independently while adhering to the Code of Professional Conduct for Counsel when carrying out their duties.
About the Responsibilities
The International Criminal Court (ICC) looks into cases of genocide, war crimes, crimes against humanity, and crimes of aggression and, where necessary, brings individual accusations against those defendants to trial. The Court is a participant in the worldwide effort to abolish impunity, and via the use of international criminal justice, the Court seeks to both hold those guilty of crimes accountable and contribute to their prevention. By becoming a member of the ICC, you can help in this cause.
As an intern you are required to:-
carry out study on a variety of intricate legal topics;
draughts of memos, summaries, legal notes, and minutes of meetings;
Follow developments to support team assistance;
Attend Court internal meetings and give presentations to other audiences.
Location
The Hague – NL
Time Period
Interns must put in between three and six months of full-time work (to be agreed to prior to commencement). Placements for internships cannot last more than six months.
Remuneration
Please be aware that ICC professional placements during visits and internships are not financed. The Internship and Visiting Professional Program participants are not eligible for any compensation from the ICC, and there is no way to get paid for expenses incurred before, during, or after the internship or visiting professional placement. Therefore, candidates must be financially independent throughout their internship or temporary professional placement. The ICC's Trust Fund for the Development of Interns and Visiting Professionals, which accepts contributions from States Parties and other donors, may offer a small amount of funding, though. As long as funding is available, the Human Resources Section shall promote a supported job opening in accordance with the donors' agreed-upon Trust Fund terms of reference.
Eligibility
ability to adapt to a bilingual and multicultural workplace
Strong collaborative abilities with the capacity to operate alone as well (listens, consults, and communicates).
good writing and research skills.
high level of computer proficiency (including Microsoft Office applications and electronic databases).
Knowledge, Skills: Because internship positions target applicants who are just starting out in their professional lives, having practical experience is not a requirement for selection. The Court may, however, view practical experience as an asset if it is pertinent to its function.
Experience: Candidates who are just starting their professional careers are given preference for internship positions. Practical knowledge is not a requirement for selection. A practical background that is pertinent to the work of the Court can be viewed as advantageous. Such employment experience, therefore, shouldn't go beyond three (three) years.
Education: All applicants must hold an advanced degree in law (L.L.M. or J.D.) or be in their last year of law school at an accredited university, having completed coursework in public international law, international humanitarian law, international criminal law, and/or human rights. Candidates must have a strong history of academic achievement.
Understanding of Languages: It is necessary to be proficient in either French or English, the Court's working languages. A basic understanding of the other is preferred. An advantage is having knowledge of one of the Court's other official languages, such as Arabic, Chinese, Russian, or Spanish.
Other requirements: Gender equality and diversity are priorities for the Court. Nationals of non-represented and under-represented nations at the ICC are also encouraged to apply, in keeping with the ICC's attempts to promote geographical representation among personnel.
Deadline for Applying
31 December 2022
How to Apply?
Interested candidates may apply from here:- http://ow.ly/qwIb50JMwE8
Disclaimer: All information posted by us on Lexpeeps is true to our knowledge. But still, it is suggested that you check and confirm things on your level.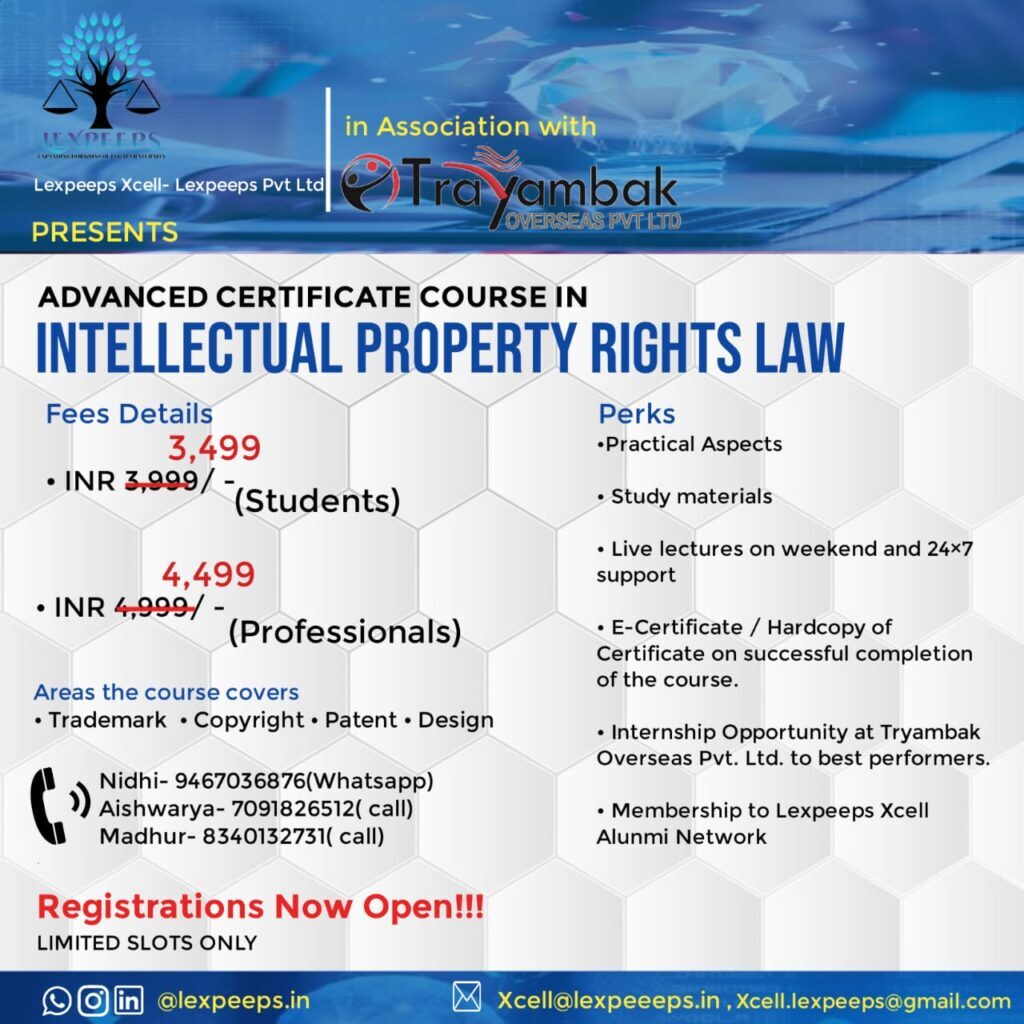 For regular updates, we can catchup at-
WhatsApp Group:
https://chat.whatsapp.com/G4bxdgRGHY8GRzOPSHrVwL
Telegram:
LinkedIn:
https://www.linkedin.com/company/lexpeeps-in-lexpeeps-pvt-ltd