About UNESCAP
The United Nations Economic and Social Commission for Asia and the Pacific is one of the five regional commissions under the jurisdiction of the United Nations Economic and Social Council.
It was established in order to increase economic activity in Asia and the Far East, as well as to foster economic relations between the region and other areas of the world.
The commission is composed of 53 Member States and nine Associate members, mostly from the Asia and Pacific regions. In addition to countries in Asia and the Pacific, the commission's members include France, the Netherlands, the United Kingdom, and the United States.
The region covered by the commission is home to 4.1 billion people, or two-thirds of the world's population, making ESCAP the most comprehensive of the United Nations' five regional commissions.
About the Internship
Interns work five days per week (37.5 hours) under the supervision of staff member(s) in ESCAP-SSWA which they are assigned to.
The internship is UNPAID and full-time.
Learning Opportunities
UNESCAP's South and South-West Asia Office provides interns with an opportunity to enhance their understanding of:
Socio-economic challenges the subregion is facing in particular within the 10 countries served by UNESCAP-SSWA Office;
The processes of regional and multilateral cooperation;
Mandates and operations of United Nations in developing countries in its efforts to provide policy advice, capacity building, and platform for governments to create space for economic and political integration.
UNESCAP-SSWA Office
Inaugurated in December 2011, UNESCAP South and South-West Asia Office (UNESCAP-SSWA) serves 10 countries in the subregion, namely Afghanistan, Bangladesh, Bhutan, India, the Islamic Republic of Iran, Maldives, Nepal, Pakistan, Sri Lanka, and Turkey.
The work program of UNESCAP-SSWA covers analytical and normative work, policy support and advocacy, technical assistance, and capacity building activities, along with five priority areas, as per the mandate received from UNESCAP member States:
Inclusive growth, the accelerating achievement of the MDGs, structural change and job creation, women's empowerment, social protection, the post-2015 development agenda, and sustainable development
Strengthening connectivity, trade, and transport facilitation, and regional economic integration
Regional cooperation for food and energy security
Regional cooperation for disaster risk reduction
Assisting LDCs and LLDCs in implementation of the Istanbul and Almaty Program of Action.
Responsibilities
Under immediate supervision by a staff member(s), the intern is responsible for contributing to the research project (s) related to the work programme of SSWA for the implementation of the SDGs.
The topic of the project will depend on the intern's background, skills, and interests.
Regular monitoring of relevant developments, policy trends and news articles related to the implementation of the 2030 Agenda and the SDGs in the subregion;
Monitor and collect details on national policies on selected sustainable development issues of ESCAP-SSWA member States
Collect data, generate figures and tables, describe and analyze the tables and results to support ESCAP-SSWA staff in related research and analytical work
Attend conferences, seminars, meetings and other events and provide written highlights and briefing notes
Provide administrative, organizational and conference management support for ESCAP-SSWA events
Other activities as may be decided by the supervisor
Eligibility
Competencies
The United Nations Core Competencies include:
Communication: Ability to draft clearly and concisely, good written and oral language skills.
Teamwork: Good interpersonal skills, ability to work collaboratively with colleagues from different national and cultural backgrounds to achieve organizational goals.
Client Orientation: Considers all those to whom services are provided to be 'clients' and seeks to see things from clients' point of view.
Education
To qualify for an internship with the United Nations Internship Programme, applicants must meet one of the following requirements:
Be enrolled in a graduate school program (second university degree or equivalent, or higher); or
Be enrolled in the final academic year of a first university degree program (minimum Bachelor's level or equivalent); or
Have graduated with a university degree (as defined above) and, if selected, must commence the internship within a one-year period of graduation.
Languages
English and French are the working languages of the United Nations Secretariat.
Fluency in spoken and written English is required for the internship. Knowledge of an additional official UN language is an asset.
Arabic, Chinese, English, French, Russian and Spanish are the official languages of the United Nations Secretariat.
How to apply?
A complete online application (Cover Note and Personal History Profile) is required. Incomplete applications will not be reviewed.
The Cover Note must include:
Title of degree you are currently pursuing
Graduation Date (when will you be graduating from the programme)
List the ICT skills and programmes (including courses/modules at University that you have successfully completed) that you are proficient in
List your top three areas of interest (such as the link between ICT and disaster risk reduction)
Explain why you are the best candidate for that specific preference.
Explain your interest in the United Nations Internship Programme
In your Personal History Profile, be sure to include all past work experience (if any), ICT skills and relevant University courses/modules, and three references.
Please note that due to the large number of applicants, we will not be in a position to reply to each application and that only short-listed applicants will be contacted for further consideration.
Important Note
Applicants are urged to follow carefully all instructions available in the online recruitment platform, inspira. For more detailed guidance, applicants may refer to the Manual for the Applicant, which can be accessed by clicking on the "Manuals" hyper-link on the upper right side of the inspira account-holder homepage.
Remote Internships (COVID-19): In the context of the COVID-19 pandemic, applicants may be requested to undertake the internship remotely in view of constraints regarding visa issuance, international travel and access to UN premises. Applicants must be willing and prepared to undertake the internship remotely for a part or the entirety of the internship.
Location
New Delhi
Link to apply-
https://inspira.un.org/psp/PUNA1J/EMPLOYEE/HRMS/c/UN_CUSTOMIZATIONS.UN_JOB_DETAIL.GBL?Page=UN_JOB_DETAIL&Action=A&UNAction=Apply&JobOpeningId=156244&cmd=login&languageCd=ENG
Link for more details-
https://careers.un.org/lbw/jobdetail.aspx?id=156244&Lang=en-US
Disclaimer: All information posted by us on LexPeeps is true to our knowledge. But still, it is suggested that you check and confirm things on your level.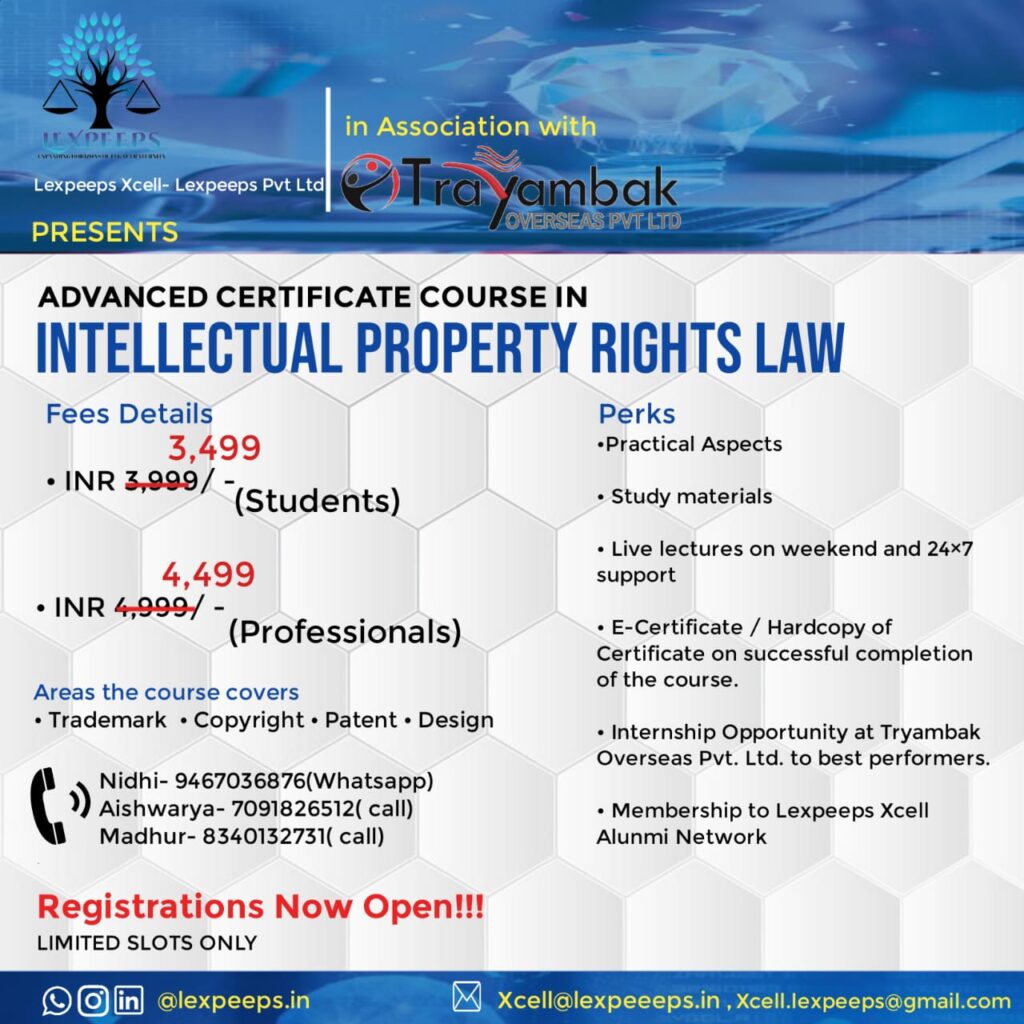 For regular updates we can catchup at-
WhatsApp Group:
https://chat.whatsapp.com/GRdQLsHRwmB7QVRmS3WK
Telegram:
LinkedIn:
https://www.linkedin.com/company/lexpeeps-in-lexpeeps-pvt-ltd