About NLUO
The National Law University Odisha (NLUO) is a vibrant addition to India's national law universities. Within the short span, NLUO has made its mark as a university engaged in teaching and research in law. Faculty research output has always been of a very high standard, yielding among others several top-tier international publications. The student community's engagement with co-curricular activities has yielded remarkable results, including consistently high performances in moot court competitions and active participation in prestigious national and international conferences and seminars. The liberal yet demanding academic culture coupled with the friendly environment have ensured that students are able to harness their full potential and contribute in the area of their choice.
The University has received recognition from the University Grants Commission (UGC) under Section 12(b) of the UGC Act 1956, and has been receiving grants under the XIIth Plan. Its degrees offered are recognised by the Bar Council of India. It is also an associate member of the UGC-INFLIBNET, and a participant in the National Knowledge Network under the Ministry of Information Technology and Communication, Government of India.
About International Maritime Arbitration Moot (IMAM)
The International Maritime Arbitration Moot (IMAM) is the first in India and the third in the world to have maritime law as its principal subject area. The moot aimed to enhance research and advocacy skills of students in the area of Maritime Law and International Commercial Arbitration. So far, the moot has witnessed eight successful editions with the enthusiastic participation of teams from all across the country. With each new edition, the University strives to present a more demanding debate for its participants in
order to reach new heights.
For the last eight years, NLUO has successfully organized its flagship moot, the "International Maritime Arbitration Moot (IMAM)," attracting some of the brightest minds and sharpening their advocacy abilities in the burgeoning fields of maritime law and arbitration.
9TH NATIONAL LAW UNIVERSITY ODISHA BOSE & MITRA & CO. IMAM 2022
The 9th IMAM 2022 seeks to make strides in the experience by ensuring that the teams are met with a challenging problem related to the contemporary areas of maritime law and have the opportunity to face a veteran and engaging panel of judges. Owing to the developing interest in the field of maritime law, the
competition, as has always been, will be dealing with multifarious aspects of maritime law. The competition case study of 9th International Maritime Arbitration Moot is being drafted by our Associate Partner- the Institute of International Shipping and Trade Law, Swansea University.
The competition is tentatively scheduled to be held from 24th to 27th March We are hopeful of conducting the moot on campus, providing the participants with an unsurpassable mooting experience. Yet, we are pragmatic and wary of the compelling circumstances which may eventually lead to the moot being conducted online.
AWARDS FOR IMAM 2022
WINNER
Rs 1,50,000 as prize money, and Three internship slots at Bose & Mitra & Co
RUNNER'S-UP
Rs 75,000 as prize money, and Three internship slots at Bose & Mitra & Co.
BEST ORALIST
Rs 35,000 as prize money, and One internship slot at Bose & Mitra & Co.
BEST MEMORIAL
Rs 25,000 as prize money.
Registration
CLICK HERE to register
Important Dates
Release of Case Study & Commencement of Registration        04th December 2021
Last date for seeking Clarifications to the Case Study                31st December 2021
Release of Clarifications to the Case Study.                                10th January 2022
Last date for Registration and Payment of the Preliminary Registration fees               22nd January 2022
Last Date for Submission of the Electronic Copy of the Memorials                       01st February 2022
Last Date for Submission of the Electronic Copy  of the Memorials (with penalty)     02nd February 2022
Results of Memorial Qualifier round                                              22nd February 2022
Last Date for Payment of the Final Registration Fee.                  17th March 2022
Oral Rounds                                                                                    24th – 27th March 2022
Important Links
Contact Details
Mail to: imam@nluo.ac.in
Disclaimer: All information posted by us on LexPeeps is true to our knowledge. But still it is suggested that you check and confirm things on your level.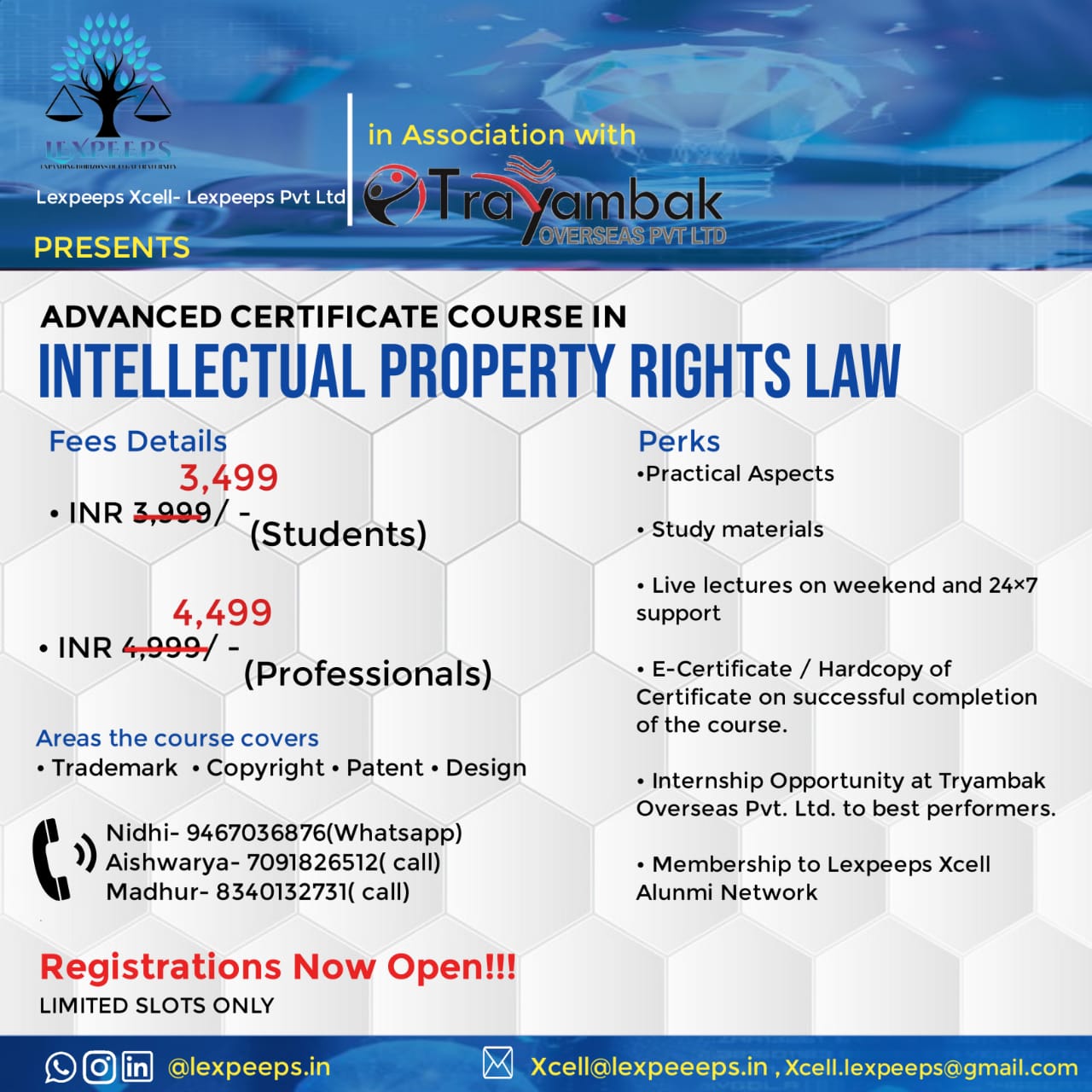 WhatsApp Group:
https://chat.whatsapp.com/GRdQLsHRwmB7QVRmS3WK
Telegram:
LinkedIn:
https://www.linkedin.com/company/lexpeeps-in-lexpeeps-pvt-ltd