The Centre for Communication Governance at the National Law University, Delhi is accepting applications for the first edition of its AI Law and Policy Diploma Course, an 8-month online diploma course, from October 2022 to May 2023.
ABOUT
The Centre for Communication Governance at the National Law University, Delhi is announcing the first edition of the AI Law and Policy Diploma Course – an 8-month online diploma course curated and delivered by expert academics and researchers at CCG and NLU Delhi.
The Course is an exciting opportunity to learn the legal, public policy, socio-political and economic contours of AI systems and their implications on our society and its governance.
OBJECTIVES
The students of the course will be introduced to AI technology and will become cognisant of its opportunities and challenges, and its potential impacts on society, individuals, and the law.
The course will provide an overview of the interactions between AI and Law and delve into the current domestic and international frameworks which seek to govern AI technology.
The students will be equipped to navigate the interaction between AI and ethics, and consider the ethical principles within which the use of AI technologies are being situated. They will be provided with a breakdown of the ethical principles which have emerged surrounding the use of AI.
Students will become familiar with the regional and international policy processes which surround AI technology and the role of intergovernmental organizations in AI governance.
Students will be equipped with knowledge of data protection principles and their interaction with AI systems.
Students will delve into problems surrounding AI discrimination and explore how bias creeps into AI systems at various stages and the implications that this may have on individuals and our society.
The students will become conversant with global practices, and governance and regulatory frameworks around AI, focusing on multilateral processes which are currently underway as well as specific domestic approaches.
The course also has a specialized module on AI in India, focusing on the regulatory and governance framework around the deployment of AI systems.
Students will also become familiar with the novel use of AI in India, including the use of AI systems for FRT as well as its use in judicial systems.
The students will explore the emerging application and use cases of AI technologies. Students will familiarise themselves with the new uses of AI technologies such as facial recognition, emotional recognition, predictive policing, AI use in workplaces, AI use in healthcare, etc., and consider how this may impact individuals and society.
ELIGIBILITY
Lawyers/advocates, professionals involved in information technology, professionals in the corporate, industry, government, media, and civil society sector, technology policy professionals, academicians, and research scholars interested in the field of technology and information technology law and policy and undergraduates from any discipline are well positioned to apply for the course.
Candidates having a 10+2 degree from any recognized board of education, with a minimum of 55% marks, are eligible to apply for this course.
There shall be no restriction as to age, nationality, gender, or employment status in the admission process.
DEADLINE
October 3, 2022 (11:59 pm IST)
COURSE FEE
INR 90,000/- (all-inclusive and non-refundable) to be paid at the time of registration.
https://bit.ly/AIdiplomacourse
Disclaimer: All information posted by us on Lexpeeps is true to our knowledge. But still, it is suggested that you check and confirm things on your level.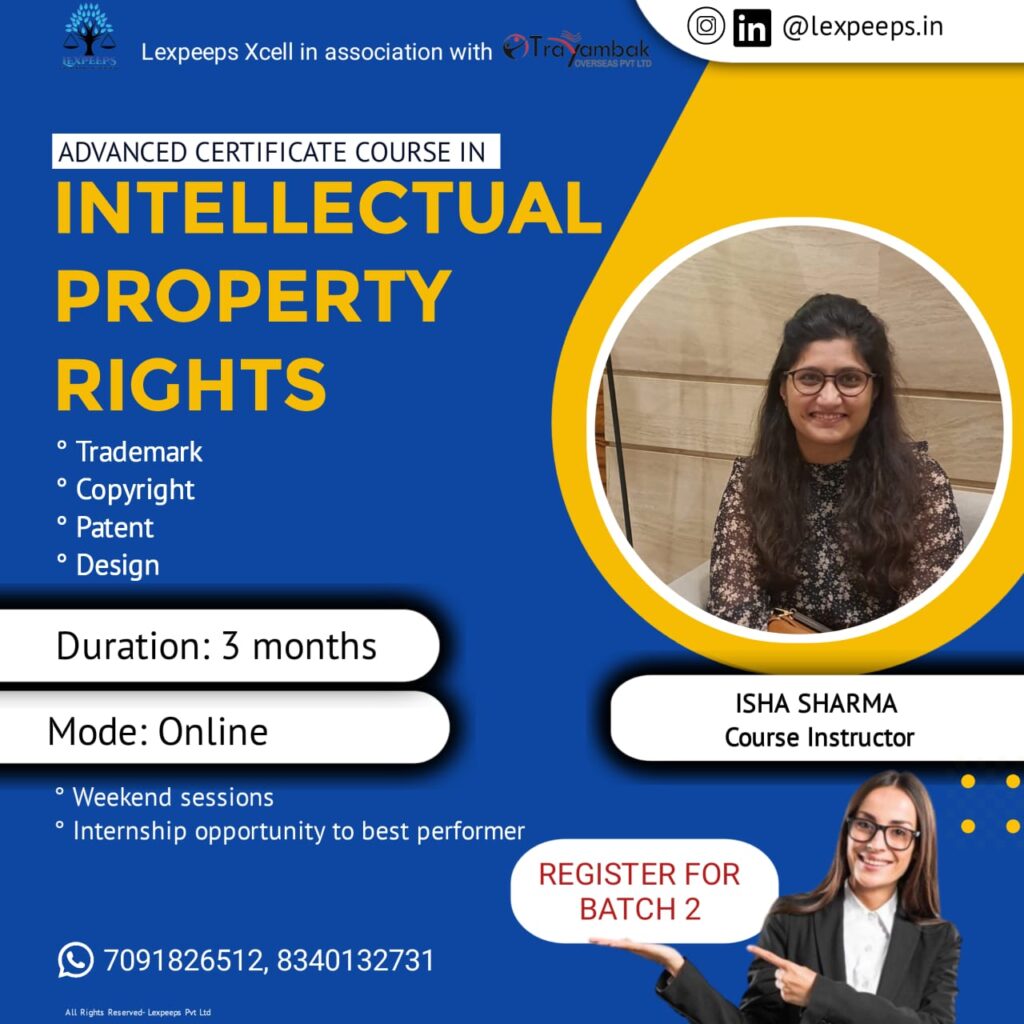 WhatsApp Group:
https://chat.whatsapp.com/G4bxdgRGHY8GRzOPSHrVwL
Telegram:
LinkedIn:
https://www.linkedin.com/company/lexpeeps-in-lexpeeps-pvt-ltd