GNLU Centre for Women and Child Rights is making a call for papers for its RTE Conclave.
ABOUT
With over a decade since the Right of Children to Free and Compulsory Education Act, 2009 (RTE Act) was enacted in India, new issues have emerged in its interface with society and its evolution in the current context. The RTE Conclave is a first-of-a-kind conference that seeks to bring academicians, students, practitioners, activists, and policymakers together to work towards the effective implementation of the RTE Act, both in essence and spirit. The Conference aims to set a reference point for future discourse on the RTE Act by identifying and addressing some of the contemporary issues and challenges.
GENERAL GUIDELINES
Submissions are invited from academicians, activists, practitioners, research scholars, and undergraduate and postgraduate students.
Co-authorship is allowed to a maximum of 2 authors including the main author.
The manuscript must not contain the name of the author(s) or his/her institutional affiliation or any other information.
Link For Abstract Submission:  https://forms.gle/XdpydUea1LhFRWJm7
The participants are requested to submit an abstract of a maximum 300 words in Microsoft Word document, Font style – Times New Roman, Font Size – 12, line spacing – Single. The abstract may include keywords (maximum: four).
The abstract must include a clear indication of the objectives, methodology, major results, implications, and key references.
The research must be novel, original and add to the existing literature on the subject.
All abstracts will be subject to a blind review and only those abstracts approved by the reviewers will be selected to submit their complete paper for the final presentation.
Word limit – 5000 to 8000. (Including footnotes)
Submissions must be made in Microsoft Office (doc./docx.) formats only.
The paper should be free from all grammatical and spelling errors. The body of the manuscript must be in the font 'Times New Roman', font size 12, line spacing 1.5 and the text should be justified.
All footnotes must be in font 'Times New Roman', font size 10, line spacing 1, and justified.
All submissions must follow the 'OSCOLA: Oxford University Standard for the Citation of Legal Authorities' citation guide.
SUB-THEMES
Role of Legal Professionals and students of law in improving access to education in India.
NEP 2020 and RTE Act 2009: Issues, challenges, and way forward.
Implementation of Section 12(1)c of the RTE Act, 2009 in India.
Understanding RTE in light of specially-abled children.
Reforms in the school examination system.
Education as a subject under the concurrent list: Emerging issues between Centre and States.
Economic Analysis of RTE Act, 2009.
Regulation of Private Unaided Schools in India.
Role of RTE in addressing challenges for doubly oppressed and marginalized sections.
Education and Gender. Re-imagining Indian Education Laws in light of global standards.
Impact of Social Media on the Right to education.
The future of Ed-tech in the development of the Education sector in India.
Please note that the list of sub-themes is merely suggestive and non-exhaustive in nature. The authors can choose to submit manuscripts on other relevant and contemporary topics under the broad theme.
IMPORTANT DATES
Abstract Submission: 31st July 2022
Communication of Acceptance of Abstract: 8th August 2022
Full Paper Submission: 8th September 2022
Communication of Acceptance of Full Paper: 15th September 2022
Payment of Conference Fee: 17th September 2022
https://docs.google.com/forms/d/e/1FAIpQLSc0u0OoEZHLL2SPpRo8lhFI8TprPKnvIB6rOMtSiS10hb7_5A/viewform
Disclaimer: All information posted by us on Lexpeeps is true to our knowledge. But still, it is suggested that you check and confirm things on your level.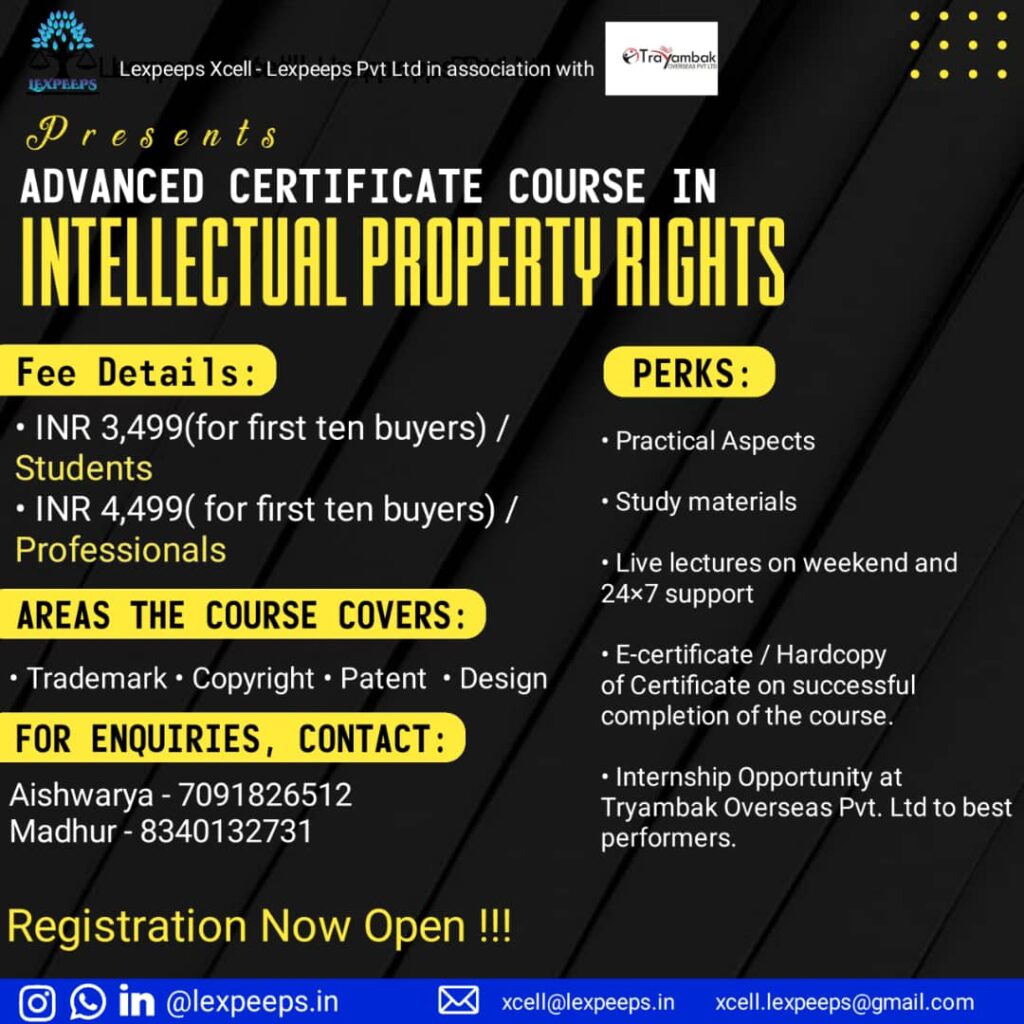 WhatsApp Group:
https://chat.whatsapp.com/G4bxdgRGHY8GRzOPSHrVwL
Telegram:
LinkedIn:
https://www.linkedin.com/company/lexpeeps-in-lexpeeps-pvt-ltd