Centre for Post Graduate Legal Studies, NUALS is organising an International Seminar on Environment, Trade, and Health: Vicissitudes Of Marine Fishing & Legal Conundrums on January 5 to 7, 2023 and making a call for papers for the same.
ABOUT
The National University of Advanced Legal Studies (NUALS) was established by Act 27 of 2005 of the Kerala State Legislature. By the same Act, the National Institute for Advanced Legal Studies (NIALS) established by the Bar Council of Kerala Trust in 2002 and later merged with the NUALS.
THEME
The Seminar would inter alia explore topics identified as sub-themes below:
Commercial fishing and existing international law framework
WTO and Fish-Trade
International Legal Regulation of the Fishing Industry
Aquaculture and its trading possibilities
Health issues relating to commercial fishing
IUU fishing and threats due to the use of fish as medicine
Health issues involved in Aquaculture
Commercial fishing vs. Right to a healthy environment
Constitutional rights of Fishermen
Scope of aquaculture under Constitutional provision
Dimensions of Indian Constitution in regulating IUU fishing.
The compatibility of Indian laws in international legal regimes regarding fishing.
NB: The given sub-themes are only indicative and not exhaustive. Papers submissions are not limited to the broad sub-themes mentioned above.
SUBMISSION GUIDELINES
Abstract: Submission must be accompanied by an abstract of not more than 300 words. No
paper will be accepted without an abstract. Five key-words should also be identified after the
abstract.
Text of the paper: The text of the manuscript must be formatted as follows:
a. Font: Times New Roman;
b. Size: 12;
c. Spacing: 1.5
Footnotes: The footnotes must be formatted as:
a. Font: Times New Roman;
b. Size: 10;
c. Spacing: 1
Please note that the use of speaking footnotes and end-notes is discouraged.
Citation: Submissions must conform to the guidelines provided under the 20th edition of the
Bluebook system of citation.
Co-authorship: Co-authorship is allowed only up to a maximum of 2 authors ( Each author
has to register individually)
Submission: Author/s are required to submit the manuscripts in Microsoft word document
(.doc / .docx) only. The paper should be sent to iseth2023@nuals.ac.in within the timeline
mentioned below. The subject of the email should be: "Paper Submission: (followed by the
title of the paper)".
Plagiarism, Originality, and Confidentiality:

It is the responsibility of the Authors to ensure that the electronic copies of submissions are free from the author(s) name, affiliation, name of the institution, postal address, and author's contact details such as e-mail and contact number of the author designated to receive correspondence.
The manuscript must be the original work of the author and free from plagiarism. All submissions will be subject to a plagiarism check.
The manuscript submitted to the journal must not be previously published or currently under review at any other journal/conference/book and should not be submitted to any other journal/conference/book while under review with us.
In case of any copyright violations, the organizers will not be responsible and it is the sole responsibility of the author/authors for any kind of IP infringement.
Finality of Decisions: The final decision as to acceptance and publication of the manuscript
rests with the Editorial board.
Publication: Selected papers will be published in a book with ISBN NO.
Mail ID: iseth2023@nuals.ac.in
IMPORTANT DATES
Submission of Abstract: November 15, 2022
Communication of acceptance of Abstract: November 26, 2022
Submission of Paper: December 15, 2022
Communication of acceptance of Paper: December 26, 2022
Registration: December 27, 2022 to December 31, 2022
Seminar Days: January 5, 2023 to January 7, 2023
NB: No accommodation shall be provided by the University.
DETAILS
The fees are required to be paid online only after the confirmation of acceptance is given but before the seminar. The seminar fee including the registration amount, conference lunch, tea, and the conference kit are as follows:
For Paper Presenters: To be paid after the confirmation of acceptance of full paper
For legal practitioners, academicians, Industry Participants/Practitioners: INR 3000 /-
For Students and Ph.D. Scholars: INR 1500 /-
For participation only: INR 1,000 /- to be paid before December 31, 2022
A payment gateway will be provided later. Those who want to present online may contact the organizing committee.
https://nuals-seminars.com/event/eth/
Disclaimer: All information posted by us on Lexpeeps is true to our knowledge. But still, it is suggested that you check and confirm things on your level.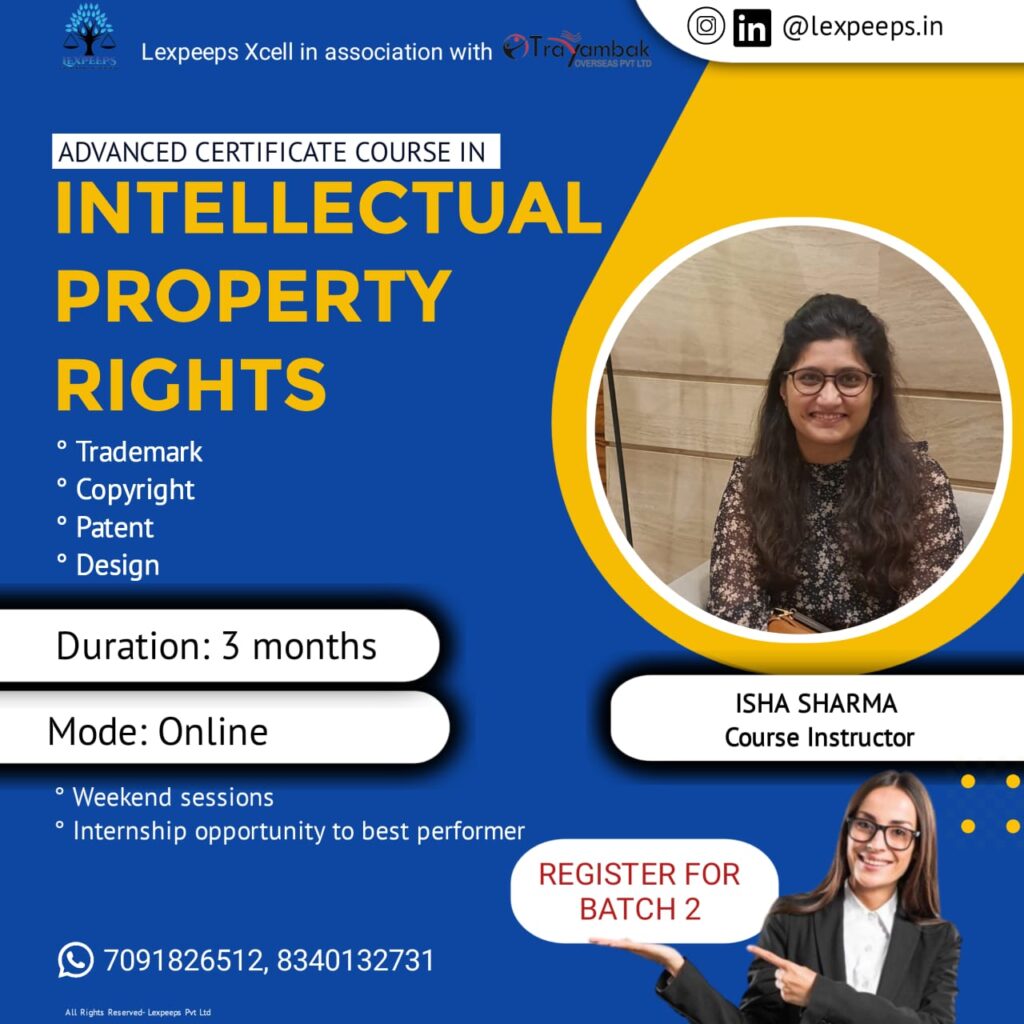 WhatsApp Group:
https://chat.whatsapp.com/G4bxdgRGHY8GRzOPSHrVwL
Telegram:
LinkedIn:
https://www.linkedin.com/company/lexpeeps-in-lexpeeps-pvt-ltd