Alliance Centre for Alternative Dispute Resolution (ACADR), Alliance School of Law is organizing an International Conference on "The Future of Alternate Dispute Resolution: Prospects and Challenges" on November 12.
ABOUT
Alliance Center for Alternative Dispute Resolution (ACADR) is organizing an International Conference on "The Future of Alternate Dispute Resolution: Prospects and Challenges".
Arbitration, Mediation, Negotiation, Conciliation, Lok Adalat, Settlement, etc. are the various methods for settling disputes which have received worldwide recognition and are applied successfully, as they settle disputes in a speedy and amicable manner.
ELIGIBILITY
The conference is open to academicians, students, researchers, practitioners, and anyone interested in the subject.
THEME
Role of courts in International Arbitration.
Selecting an Arbitral Seat: Key Consideration.
Jurisdiction-specific issues in Arbitration.
Evidence in International Arbitration Procedure.
India as an International Commercial Arbitration Hub: The Challenges.
Is Alternative Dispute Resolution a Privatized Justice?
Alternative Dispute Resolution and Criminal Justice System.
India's instance on the International Centre for Settlement of Investment Dispute (ICSID) Convention in relation to Banking.
Need for Laws governing Mediation in India.
The emerging importance of Environment Social Governance (ESG) & its impact on International Arbitration. Cross Border Partnership and collaboration in International Arbitration.
The Role Diverse Bar Associations Play in Increasing DEI (Diversity, Equity, and Inclusion) in ADR. Arbitration and Technology: Blockchain Arbitration and Smart Contracts.
Online ADR in India: Prospects
Pre-Institution mediation in India: Future prospects
Comparison of Pre-Litigation Mediation in India with other countries and how other countries have mandated pre-litigation.
SUBMISSION GUIDELINES
The paper should be in Doc./Docx. format.
The paper must be in a single-column layout with margins justified on both sides.
The sub-heading should be in font size 12, bold, and Times New Roman, left-aligned.
The main text should be in font size 12, Normal, Times New Roman, 1.5 spacing, and justified.
The length of a paper should not be less than 3500 words (excluding footnotes).
All references must be in the form of footnotes with font size 10, Times New Roman, 1.0 spacing and should be according to the Bluebook 20th Edition.
The submissions should not have more than a 15% Similarity Index.
All the submissions should be made via E-mail to acadr@alliance.edu.in.
PERKS
Suggestions and inputs from Experienced and Learned Panelists;
All the Paper Presenters shall be provided with an E-Certificate of Presentation;
Awards will be given for Best Paper.
Selected papers shall be published in an ISSN International Journal and ISBN Book with no additional Article Processing Charges (APC).
IMPORTANT DATES
Submission of abstract: Aug 30, 2022
Communication of Acceptance: September 5, 2022
Registration & Payment of Fee: September 7, 2022
Submission of Full paper: September 30, 2022
Conference Date: November 12, 2022
CONTACT DETAILS
https://forms.gle/zMtbuxxd1u9x8DdZ7
Disclaimer: All information posted by us on Lexpeeps is true to our knowledge. But still, it is suggested that you check and confirm things on your level.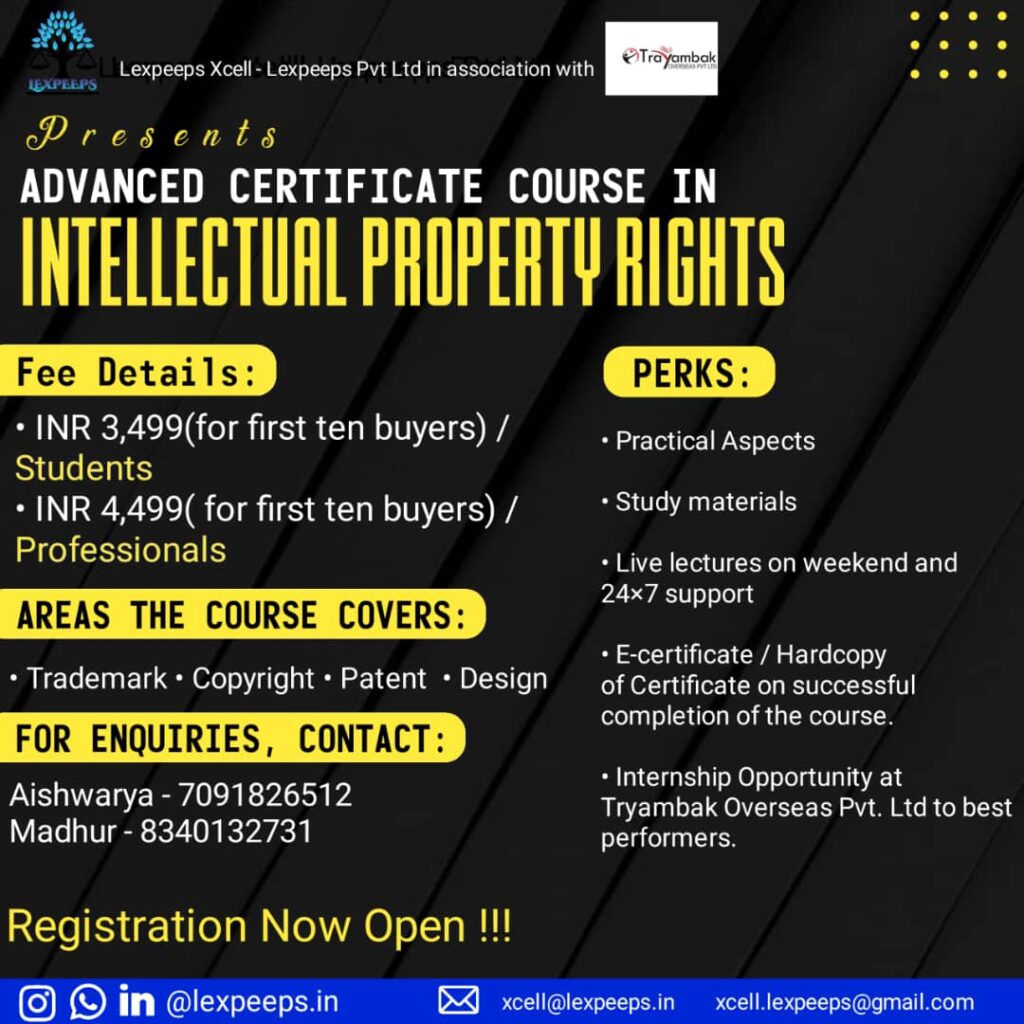 WhatsApp Group:
https://chat.whatsapp.com/G4bxdgRGHY8GRzOPSHrVwL
Telegram:
LinkedIn:
https://www.linkedin.com/company/lexpeeps-in-lexpeeps-pvt-ltd