ALLIANCE UNIVERSITY, BANGALORE is organizing INTERNATIONAL CONFERENCE 2022.
ABOUT
The want for better prospects on a global level necessitates a spilling over of the national boundaries by the business organizations. To make business happen successfully across borders a hassle-free single standardized business process is most solicited by the MNCs/TNCs. Such a uniform process, in turn, can create a uniform market pattern, standardized consumption style, and singularity in management/governance in every country in which these MNCs / TNCs operate. There are varied tools to achieve such standardization by business houses across the nations. These tools include an evenly accepted style in cutting-edge ICT; standardized market-friendly measures that promise every player in every country the same opportunity; internationally accepted trade rules and labor laws; intermediations of cross-border finance capital; a consistent style of typical business communication; the organizational practices that are meant to homogenously affect every employee; uniform trade statistics; and finally, broad-stroke generalization of issues of gender, environment, and inclusive growth.
ELIGIBILITY
Open to all students
THEME
FUTURE OF ALTERNATIVE DISPUTE RESOLUTION
SUB-THEMES
Role of courts in International Arbitration
Selecting an Arbitral Seat: Key Consideration
Jurisdiction-specific issues in Arbitration
Evidence in International Arbitration Procedure
India as an International Commercial Arbitration Hub
Alternative Dispute Resolution and Criminal Justice
System India's instance on the International Centre for Settlement of Investment Dispute (ICSID) Convention in relation to BankingNeed for Laws governing Mediation in India
The emerging importance of Environment Social Governance (ESG) & its impact on the International Arbitration
Cross Border Partnership and collaboration in International Arbitration
The Role Diverse Bar Associations Play in Increasing DEI (Diversity, Equity, and Inclusion) in ADR.
Arbitration and Technology: Blockchain Arbitration and Smart Contracts
Online ADR in India: Prospects
Pre-Institution mediation in India: Future prospects
Emergency Arbitration Comparison of Pre-Litigation Mediation in India with other countries and how other countries have mandated pre-litigation Mediation in Industrial Dispute and Labour
Law Mediation in Multinational Dispute cases: National and International perspective
Negotiation and Mediation in Banking and Insurance Sector
Future of Lok Adalats Pre-Litigation Mediation and its implication in the Draft Mediation Bill, 2021
Mediation in Family Disputes
DATES
12 NOVEMBER, 2022
REGISTRATIONS
https://docs.google.com/forms/d/e/1FAIpQLSe_zIzDh2OmKz4MTHUB7wcXpNdubnSw1yWuOFBx0tZ3JXZlNw/viewform
SUBMISSIONS
MODE
BLENDED
DEADLINE
September 30, 2022
CONTACT DETAILS
Disclaimer: All information posted by us on Lexpeeps is true to our knowledge. But still, it is suggested that you check and confirm things on your level.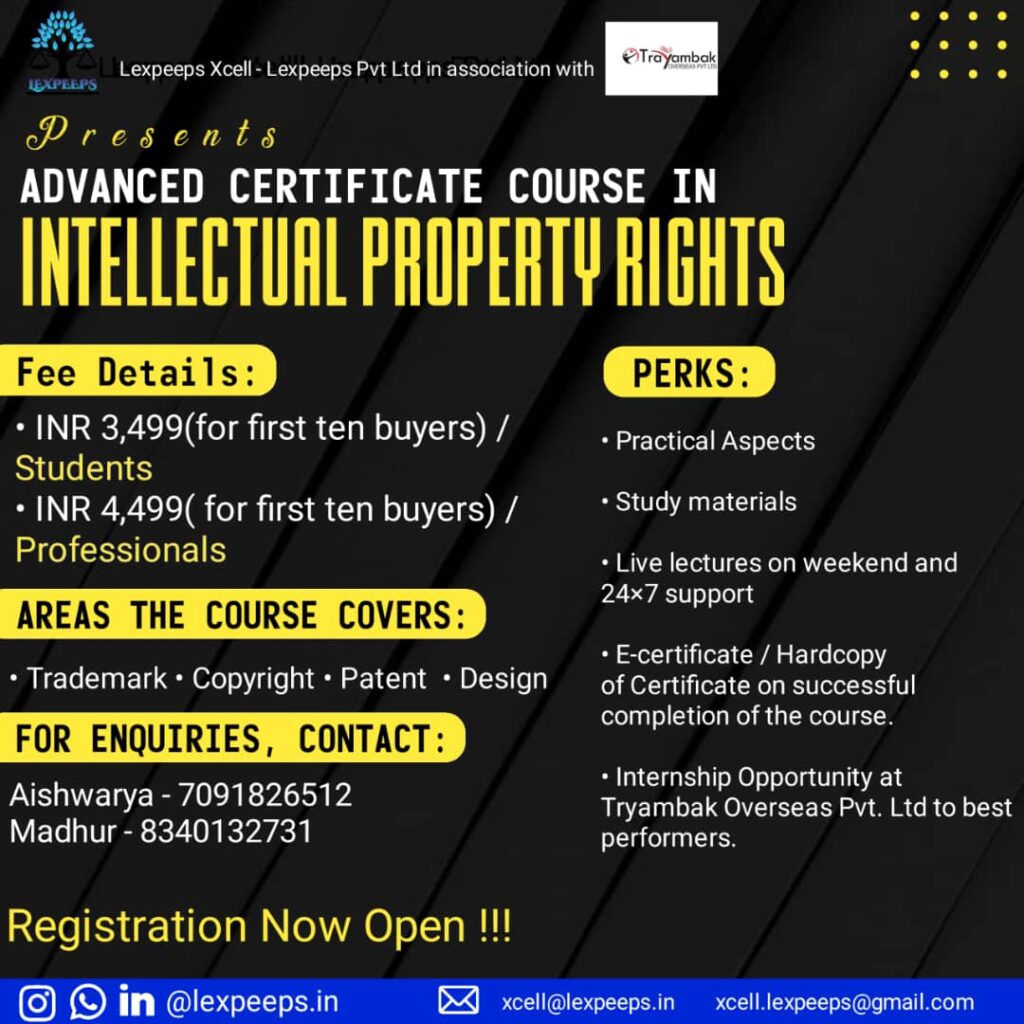 WhatsApp Group:
https://chat.whatsapp.com/G4bxdgRGHY8GRzOPSHrVwL
Telegram:
LinkedIn:
https://www.linkedin.com/company/lexpeeps-in-lexpeeps-pvt-ltd