The Moot Court Competition – Our Inspiration
Mr. Mehar S. Rathi, was one of the most revered names in the Legal Education arena and Prosecution. Mr. M.S. Rathi started his journey in the legal field as an exuberant young Lawyer in the Supreme Court of India in 1965. Later, in his service tenure he conducted Prosecution of Cases for the Government of Haryana for five years and thereafter for the Government of Delhi for a couple of decades. He had also Trained Ms. Kiran Bedi, First Lady IPS Officer in India in 1972, who used to fondly address Mr. Rathi as Guru Ji. He also served as Head of Law Faculty, Delhi Police Training College for 15 years. He imparted Legal Training to Police Officers from South Asian Countries like Sri Lanka, Maldives, Nepal & more. He was a regular Guest Faculty with the National Police Academy, Hyderabad as also with several leading Law Schools and Universities. Mr. Rathi also served as Chairman of a Committee constituted by the Supreme Court of India for screening of Family Court matters in Delhi. Mr. Rathi dedicated his life to providing free Legal Aid and Guidance to villagers in NCR and beyond. He was an epitome of selfless service to the society and will always be remembered for his impeccable integrity, knowledge and sauve mannerism. Inspired by his success in the Legal field his Three Sons joined the Legal Profession. Eldest being a Senior Judicial Officer and younger is Member of Bar Council. Even the Third Generation is toeing his path and ideals of serving Humanity through Legal Education and Empowerment.
About the Organizers:
LatestLaws.com is India's first and one of its own kind websites which provides useful and unique Legal Resources. LatestLaws.com has a healthy amalgamation of Legal Statutory Database of codified Central and State Laws, daily Supreme Court Judgements and round the clock reporting of all Legal and related News not only from India but World over.
LatestLaws.com receives more than 1.5 million monthly visitors on its website and has more than 4.20 Lakh Facebook Followers. Its Mobile Apps on Google Play Store and IOS Apple Store has 3.75 Lakh + downloads and is one of the highest rated Law App on the Google Play Store and the Apple App Store.
LatestLaws.com has more than 15,000 Subscribers to its Daily Newsletter and a network of more than 100 Campus Ambassadors spread across the Law Schools in India and Abroad as well.
LatestLaws.com's Instagram handle has more than 10,000 followers and YouTube handle has more than 8000 subscribers with steadily growing viewership where users get weekly news roundup Video Bulletin called 'The World This Week by LatestLaws.com' and webinars are also broadcasted Live on our YouTube Channel.
Indian Dispute Resolution Centre is a not-for-profit initiative of 'Indian Dispute Resolution Council' dedicated to providing an institutional environment, both online and offline, for resolution of all kinds of disputes in an efficient, professional, time bound and cost-effective manner.
About the Competition:
Team LatestLaws.com and Indian Dispute Resolution Centre is proud to present the 1st National MS Rathi Memorial Moot Court Competition, 2021.
The moot problem is about contemporary legal issues. Eminent Judges, Lawyers & Academicians of the highest standing in India, converge to adjudicate the various rounds of the competition. The said event shall be conducted virtually.
Sponsored By: Vidhisastras
Supported By: Vivekananda Institute of Professional Studies (VIPS)
Law School Partner: Northcap University, Sushant University
Law Firm Partner: Lexidem & Rathi
Dates:
The dates of the said competition shall be November 20th & 21st, 2021 (Saturday & Sunday).
Venue:
The event shall be conducted on a Virtual Platform, the details of which shall be conveyed along with the final invite.
Eligibility:
This competition is open for all bonafide students pursuing the LL.B three years or five years course or LLM during the current academic year from any recognized law college.
Registration link: https://forms.gle/4U3w4vV7FZgs5Jsh6
List of Important Dates:
Registration opens: 25th September 2021
Registration closes: 25th October 2021
Last date of memorial submission: 10th November 2021
Clarifications last date: 10th November 2021
Contact Information:
In case of queries, visit the website or feel free to write to mootcourt@latestlaws.com
For any registration related queries:
For Registration: +91- 89203-83947
For Moot problem: +91-95631-41414
Technical Support: +91-9650075373
Moot Proposition, Rule Book, Registration Form, Registration Fee, etc. can be found in the Brochure attached below.
https://drive.google.com/file/d/1CIiwjYMxt8xUpvH9nKarPMm2C0mM4pCh/view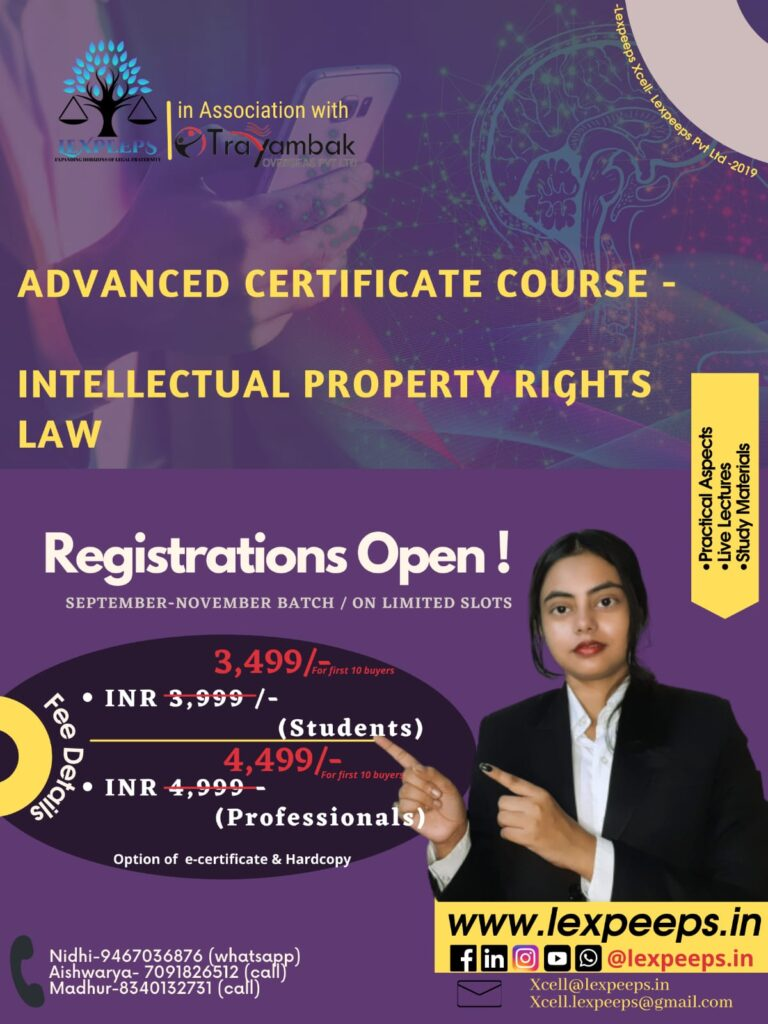 For regular updates, join us:
WhatsApp Group:
https://chat.whatsapp.com/GRdQLsHRwmB7QVRmS3WK
Telegram:
LinkedIn:
https://www.linkedin.com/company/lexpeeps-in-lexpeeps-pvt-ltd